Santa's Reindeer have never been so adorable. With a few craft supplies you can make Rudolph, Donner, Vixen and the rest of the gang in no time. I had leftover clothespins from my Easter Clothespin Bunnies and decided to create Rudolph for this year's Christmas tree. I updated the standard clothespin reindeer, making it miniature and modern. Once I started, I couldn't stop; I had to make more of Santa's sleigh pullers.
Supplies needed:
felt sheets or scraps in a variety of colors
wooden clothespins
brown acrylic paint
4mm wiggle eyes
5mm red pom-poms
4mm, 5mm or 6mm gold jingle bells
craft glue
foam brush
needle and red thread
embellishments (optional)
Instructions:
Step 1
Gather your materials.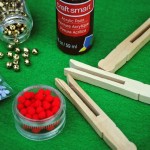 Step 2

Using brown paint and foam brush, paint the clothespins. It's best to paint a thin coat and let it dry thoroughly before adding the second coat.
Step 3

Glue wiggly eyes and nose in place on the clothespin with craft glue.
Step 4

Cut thin strips from felt for the collars – about an inch long is all you need. For Rudolph, glue or sew a jingle bell on the center of the felt strip before gluing his collar. Trim any excess from the collar before gluing.
Step 5

Personalize your reindeer with embellishments if you choose.
No need to add a hanger to make this an ornament for a tree, the clothespins will slide onto branches and hang perfectly. Happy Holidays!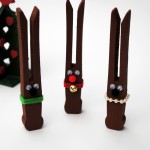 « Signing Up for Direct Checkout Friday's Fast Five: Goal Setting for Etsy Sellers »