These bunnies crafted using old fashioned clothespins are perfect for Easter decorations or gifts. This simple craft project makes the cutest Easter bunnies in under an hour with less than $10.00 of materials.
Supplies needed:
Old fashioned clothespins. I used Woodsies brand No-Roll Clothespins.
Acrylic paint in different shades (white, light purple, light yellow and light pink).
Googly eyes
Tiny heart-shaped confetti or sequins
Embellishments such as dew drops, pom-poms, sequins, etc.
Glue
Paint brush
Very fine tip black marker
Instructions:
Step 1
Paint wooden clothespins making sure that you don't leave any drips on the bunnies.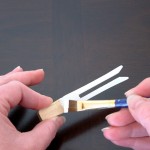 Step 2
Use glue to attach googly eyes.
Step 3

Add embellishments.I used flower sequins and other embellishments for flowers.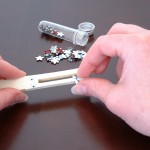 I used white Dew Drops for the bunnies' tails but you can use white pom-poms, small cotton balls or the end of a Q-tip.
Step 4

Add a tiny drop of glue in center of the face, just below the googly eyes and attach heart right side up. If you don't have small hearts, you can always draw the heart nose on with a very fine tip permanent marker.
Step 5
Draw on smile. I liked the two half circles connected to the bottom tip of the heart that I made but you can get creative with different expressions too.
Step 6
Let glue dry completely and then play!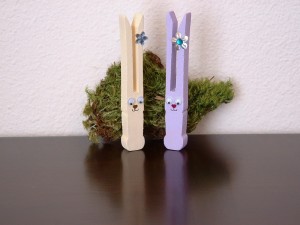 « How to Promote on Facebook Undiscovered Treasures: Serap Onur »