Serap Onur of InBlossom is a Turkish painter that has branched out from oil paintings to the traditional Turkish technique of reverse glass painting. This technique requires painting in reverse – foreground first rather than background, as well as mirroring the image – on the back of a piece of glass. The glass is attached to a solid base to make a durable finished piece. She works in Istanbul and has recently started listing her beautiful creations online.
How did you get started painting on glass?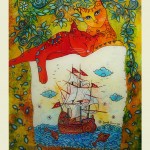 I've always liked painting since my childhood. My major degree is in graphic design and painting. I started with oil paintings on canvas, but my interest in glass blossomed. I participated in a glass painting course which really helped me improve my technique. I developed to the point that I am today after 1.5 years of work. After all, this is not a very common technique that you can learn everywhere. Reverse glass is a very hard technique with many constraints. Actually it gets even harder because of my style. In traditional technique, lighting and shadows are not used, but for me they are indispensable. I like to work on details and as you can see I like to use many colors. With every painting, I improve a little bit more and have new experiences. I like to try new things and experiment.
What can you tell us about reverse glass painting?
Reverse glass constitutes an important branch of Traditional Turkish painting. Reverse glass paintings experienced a rapid growth in popularity in Turkey at the beginning of 19th and 20th century since they were generally focused on religious images. Turkish reverse glass paintings were painted by artists who did not obtain a formal painting education and did not pay attention to the classic techniques. Traditionally, paint in powder form was used for reverse glass paintings; now it is possible to use all types of materials from water color to aquarelle, oil color to gouache.
The most important characteristic of the reverse glass technique is that the paintings are done to the reverse side of the glass. As figures are formed from layers of colors, it is not possible to do corrections and retouches once the lower layer of color is covered with another color. In a painting the last stage includes the details, signature and date. However, in reverse glass technique the design, details and signature seen on top are the first things to do. After that the colors between details are painted and the background is the last step. It is important to pay attention to the design as you work from the reverse side because once you finish the painting and look at it from the front, the apple you have drawn on the right would appear on the left side. Another challenge is the slippery surface of the glass where you paint.
The paintings are very intricate. Is your technique forgiving to mistakes?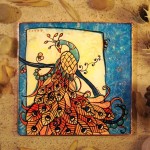 It is possible to correct small errors, but sometimes it would take too much time and I prefer to start with a new one. The main risk is with the background. If the background does not turn out to be as I want, I have to scrap the piece because correcting is not possible as all the paint is covered. Because of the difficulty of the background, sometimes I use different techniques such as special papers that I prepare or a second glass piece as a background. It is important to plan the piece. Therefore, I always perform detailed work on the painting beforehand. This technique requires precision and patience. First, I prepare the designs and draw a lot of sketches. Once I have what I want, I paint the design with dry paint and water colors in order to see what I will be doing. I do this colored work only on very detailed pieces like the peacocks. As you can imagine, this takes a lot of time. Drawing the contours to the glass is the most time-consuming step since the result is never successful if this step is not.
Where do you find inspiration for your designs?
I think God gave me the inspiration. Painting cannot be done because you decide to do it. I read and search a lot, painting is in my mornings and in my nights. I live with it. Somehow you fill up with inspiration and there comes a time to transfer it all out. You have to live, see and observe; Istanbul is a really fulfilling city in this sense with a very colorful life. Nothing is monotone. You can experience anything, good or bad, at any time. It brings an unbelievable dynamism. However, it is not easy to be an artist here – they do not get what they deserve.
How much time do you spend on each design?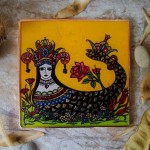 It is not easy to estimate a certain amount of time because I generally work on many pieces at the same time. First, I draw the contours of all the pieces and then color them all. However, to give an example a piece like Shahmeran will not be completed for 2 to 2.5 days.
Tell us about the materials you use. The finishing effects on the coasters are gorgeous. How do you attach the copper foil to the outside of the coasters?
I use glass paints and aquarelle. These are the ones that give me the best results. I also prefer these as they are water-based. For the edges of the coasters I use folio stretches and then solder just like the stained glass artists. I started to do the solder as I was worried that the folio itself might not last long, but I like the folio alone more as it looks better with my pieces.
Have you thought about doing smaller pieces for jewelry? Are there any other directions you'd like to experiment with?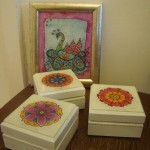 I want to bring painting in to the personal lives of people. That is why I thought about the coasters, not to have paintings just on the walls. Then I had ideas about boxes which I just started to realize. I got great results as I anticipated. I also have worked on jewelry but have not started implementing designs. I have shared my thoughts with a jewelry designer. I can provide further information on this in the future.
Have you sold your art locally? Have you sold internationally before?
I participated in individual and group expositions as well as art fairs before. All of these were with my oil paintings. Now I am presenting my reverse glass pieces and I have participated in two expositions. I am working together with some stores. My work is also on the internet. I have sold locally but I have yet to have my first international sale.
Serap has a website and Facebook page, although both are in Turkish. Google Translate can help, or follow her on Etsy to see the latest creations available for purchase!