Stacey Jones of SCJones Art Glass is a glass artisan based out of Illinois that went from collecting glass to taking a few classes. Suddenly, she found herself plunging down the rabbit hole into a colorful world of fusing, slumping, and cutting. She also paints, knits, beads, does some papercraft and tames lions. Okay, I made that last one up – but I wouldn't put it past her! Check out more of Stacey's beautiful creations as she takes us on a tour through her world.
What is the process like to produce these dazzling works of glass?
It depends on the piece. Unless you are doing a perfectly flat piece, you need to consider what ceramic or steel mold you will be using to form (slump) the final piece, and shape or cut and size it accordingly.
For the Triptych pieces, I make dozens of cane (twists) using a torch and two glass rods for each cane. Then I take a single thin sheet of clear glass, arrange the cane, and heat it in the kiln to a full fuse, which means the piece will be flat with no texture. I cut this sheet of glass into squares to be used in the finished piece. Next, I choose a background color and cut it so that the square cane pieces fit to measure. This is sort of like a puzzle. On top of that, I place another piece of clear glass and again place it in the kiln for another full fuse. After that I 'slump' it on a ceramic mold, using a lower heat – otherwise, it would melt off the mold! Finally, I grind down the bottom of the piece so that it will stand on its own.For some of the florals and the circles, each flower petal and circle is finished off by grinding. Very tedious.
Okay, I'll bite – what is slumping? How hot does the kiln get?
Slumping means shaping the glass using a mold. This is usually the final firing process; often there are two or more firings. The full fire in a kiln can be up to 1500 degrees.
Your profile says you were a collector before a creator. What prompted you to make the leap?
My sister wanted me to take a fusing class with her. It was a one time deal, and at first I thought it was limited. She already had a ceramic kiln that we could use to fire glass. After playing with it for a while, I realized that it actually had endless possibilities. I love glass, so this was a logical transition for me.
How did you learn the glassworking techniques?
Besides taking the initial class, I read alot about it. I took a class at our supplier and then I took three more extensive classes in Portland, Oregon at the Bullseye Glass factory.
The Glass Garden piece is incredible. How long did it take to produce? Is this the most intricate work you've done to date?
That piece took about 40 hours. It is the most intricate piece, although I started a second different yet equally intricate piece, which is somewhere unfinished. I am having too much fun doing other things right now. I am in the process of developing some smaller, more affordable yet beautiful glass pieces to put on Etsy.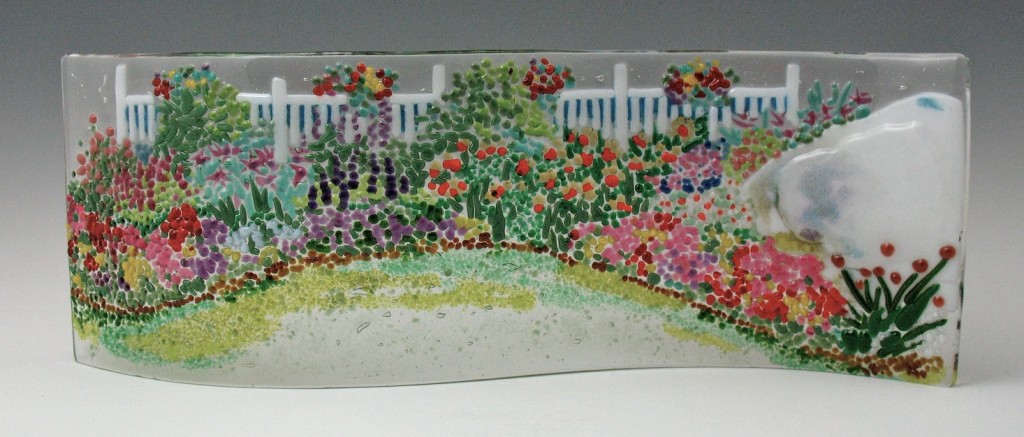 Where do you get the glass supplies?
I get my glass supplies at Ed Hoy in Warrenville, IL. I am lucky enough to live within driving distance. Glass is one expensive hobby!
Do you make any other crafts besides the glass work?
I've done photography, knitting, beading, paper projects, mosaics etc. My best friend and I do a project each year for holiday gifts. We've papered trays, stamped clocks, made holiday cards, papered lamps. About two years ago I signed up for an oil painting class. I discovered that this is a real passion for me. I love drawing and painting, and have recently started doing some encaustic painting. I made one for my daughter's graduation with three things she loves – blue butterflies, stripes and stars! Right now I am taking Survey of Printmaking. I am hoping it will enhance my abilities with my current projects. In the fall I plan on taking anatomy for artists.
You say you enjoy making beads – I would love to see any photos of beads you've created.
I'll send photos, but I have not had the time to really develop into a good beadmaker. I use the torch more for my fused pieces – canes, and flowers.
Have you sold your work locally at craft shows?
Selling is not my strength. I have done some small shows, but because of the nature of my work, the intricacy and the price point I have not had much success. I really have no desire to do shows.
I found Stacey's prices quite fair for the quality and uniqueness of her work. Browse her new Etsy shop to have a look, and be sure to add her to your favorites to see the smaller, lower-cost items she has in the works now. Thanks, Stacey!
« Kitty Couture: Handmade Pet Items Etsy Spotlight: Mac and Cheese »