I made a treasury on Etsy the other day. This itself isn't surprising – I make at least 10 treasuries a month. This one was different.
I made a treasury without thinking about team requirements. I made a treasury without intending to promote it. I made a treasury just for me – and I realized how much I missed the creative spark.
I've been in an Etsy slump lately. Well, maybe "lately" is an understatement; it's been the entire fall and winter. It started after a fun-filled anniversary trip to Las Vegas. Five days in the Sin City will make normal life seem downright dreary. I just couldn't muster enthusiasm on my return.
The trip coincided with Etsy's controversial change to the front page, switching to a personalized news feed instead of the classic front-page treasury. Some of my treasury teams shuttered the doors, others went into an identity crisis and started trying downright wacky promotion strategies.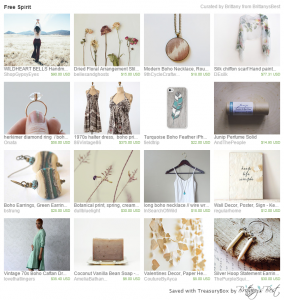 My Etsy experience started to feel empty. I fought it as best I could; I threw myself into a holiday market, then blamed the holidays after that was over.
The new year brought a new determination to get back to writing, making, promoting and listing items. So much determination! I set out each morning with such grand expectations, only to disappoint myself by late afternoon. The daily routine felt like a plod; my heart wasn't in it.
I used to eat, sleep and dream Etsy. Treasuries were a big part of it – a creative outlet, and a connection to the community. The fall of the front-page treasury made me glum. I bought into the naysaying of fellow sellers, declaring the treasury dead.
Treasuries aren't dead, at least not for me. After making that free-spirited treasury, I felt invigorated! Some people saw treasuries as a means to an end, as a lottery ticket to land on the front page. For me, treasuries are inspiration. They stir my creativity, and help me focus on photography and the latest trends.
Etsy stole the spotlight from treasuries, but that doesn't mean they're useless. Something about these collages enraptures fans; images of treasuries get more interaction and engagement for my team than ordinary social media posts.
I found a spark, and it's helped me out of my funk. I'm making again – not only treasuries, but articles and items for my shop. The more I make, the better I feel. It's an upward spiral!
If you're feeling glum about your Etsy shop, throw a treasury together from your favorite shops. Do it without pressure. Do it to make something beautiful. It might just be the pick-me-up that you need.
» Editorial » Making a Case for Making Treasuries
« Seller Secrets: Working with Professional Photographers USPS Shipping Calculator for 2015 »