Making treasuries on Etsy is a great way to network and show appreciation for other sellers. This summer, Etsy released a new feature that's eased the pain of treasury-making. I went from searching through pages of items and spending an hour or more on a single treasury to making them in mere minutes.
The critical new feature is Etsy's Favorite Lists. Favorite Lists let you organize your favorites into different collections, a bit like Pinterest boards. The feature seems unimpressive at first glance – don't let appearances fool you, I'll show you how to hijack Favorite Lists as a powerful treasury-making tool.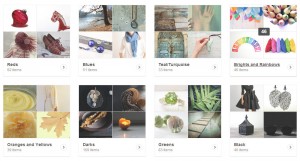 Incognito treasuries – making private lists
The first step is to set up some Favorite Lists. The Favorites page on Etsy has a Create New List option now; favorites added the old-fashioned way using the heart button are automatically added to the "Items I Love" list. I organize my lists by the way I make treasuries – by color. You could also organize by category, style or theme. There's no wrong way to do it, just set up a few to start and you can add more later.
The best part about making a new list is that it can be set to private. If I added items to my favorites for treasury-making before, everyone would get a sneak preview of the treasury; the freshness was taken away before the treasury was even published. To set a list as private, click on it and then use the Edit button in the upper right.
Favorite at your leisure
Throughout a typical day on Etsy, I'll encounter lots of great items that I might want to include in a treasury. I used to add a favorite here or there, but I created treasuries on-demand as I thought of a theme. I ended up searching a lot more than selecting items out of my favorites. With Favorite Lists, any time I come across a great item I'll toss it into one of my color-buckets.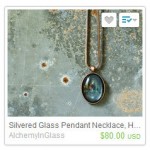 Items can be added to Favorite Lists using the menu next to the favorite "heart" button (either when hovering over an item or on the item's listing page). Save items as you come across them in your normal activities – browsing, catching up on teams, and from your activity feed. By gathering up collections over time, you'll have a pool of items to draw from immediately when you make a treasury.
Make a treasury in minutes
I used to pore through Etsy to find items for my treasury – with Favorite Lists, I start from the collections I've built up through everyday browsing. The favorites page also has a new search bar that searches across all your lists, making it even easier to find items that you've added.
To make a green treasury, I open my "green" favorites list and start adding items to a treasury using the TreasuryBox extension. If you're not using TreasuryBox, you can open Etsy's "Create a treasury" page in another tab to add items. Sort the items in the treasury by dragging and you're done! Now you can remove the items you've used from your favorites, or save them for another treasury if you really love them.
The best part of creating a treasury this way is the safety net – if you accidentally navigate away from the treasury you're creating, you can easily return to your favorite list and start fresh without losing all the items. No more lost treasuries!
I hope this tip will save you some time and ease the treasury-making process. I simply love to see well-crafted treasuries. Do you have any treasury-making tips to share?
» Etsy Tips » How to Make Etsy Treasuries in Minutes