Treasuries can
no longer be created
on Etsy as of October 5th, 2016. Thank you to everyone who used and supported TreasuryBox during the past few years.
TreasuryBox is a free extension for the Google Chrome web browser that allows you to build a treasury as you browse the Etsy site and easily notify featured shops when you're done.
TreasuryBox adds a button to items on Etsy's search, browse, activity and listing pages. It's never been easier to build a treasury – add and remove items with one click, drag to rearrange, then click Create Treasury when you're ready.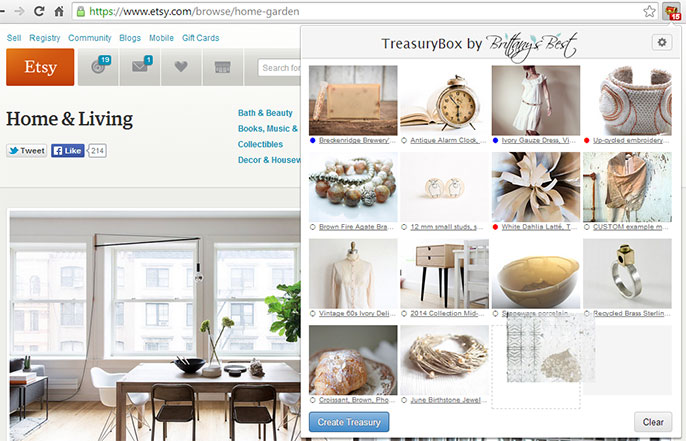 If you've ever lost an in-progress treasury by accidentally clicking away from Etsy's new treasury page, you'll love TreasuryBox's auto-save feature. It stores the in-progress treasury automatically – you can navigate anywhere, close the browser and even reboot your computer. The treasury will still be there next time you open Chrome.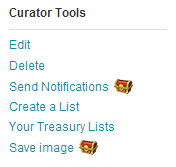 TreasuryBox adds a Send Notifications action to the curator tools on any treasury you've created. Type in a subject and message to quickly convo every featured shop with a link to the treasury and the item that was featured.
The Save Image tool is added to the curator tools on every Etsy treasury; save a copy of any treasury to easily share on Facebook. Pinterest, or your blog.
How to use TreasuryBox
Note: TreasuryBox only works in the Google Chrome web browser. Check which browser you're using at the What Browser? site.
Install TreasuryBox using the button above; this will direct you to the TreasuryBox page on the Google Chrome web store.
TreasuryBox appears as a red treasure chest button next to the address bar, in the upper-right corner of the browser.
Click the TreasuryBox treasure chest to see what's currently in your treasury; a number overlaid on the button also shows you the current number of items in a treasury (Etsy allows 16 total items).
Browse around on the Etsy site; items can be added to the treasury by clicking the treasure chest button next to Etsy's own "Favorite" button. For pages with multiple items, these buttons appear when you hover your mouse over a listing photo.
If you have any trouble using TreasuryBox – or if you want to suggest an improvement – leave a comment on this post or send me an email.
TreasuryBox and Brittany's Best are not affiliated with Etsy.