Maria Lasarga's contemporary jewelry has found a perfect home on Etsy in her designer shop. She revels in experimentation and uses uncommon materials for her jewelry, including pieces of broken china. Maria has enjoyed professional and commercial success, but she's just recently opened an Etsy shop.
Tell us about your studies and how that led to jewelry making in Italy.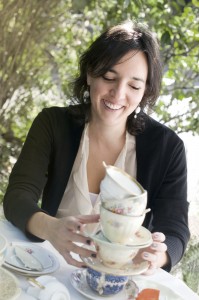 I'm an Industrial Designer; I graduated from the Design Center University in Uruguay. After graduation, I got a scholarship for a jewelry-making degree in Vicenza, Italy. Part of that experience included an internship at the jewelry factory Torresan Gioielli Ltd, where I designed a set of jewelry that won an award at the Feria di Arezzo in Italy.
I began making my first professional pieces back in Uruguay. In 2010, I represented Uruguay at the Spanish-American Design Biennial BID_10 in Madrid, Spain and received another award. My jewelry remained in exhibition for almost two years in different parts of Spain. Since 2011 I've been part of Ingenio, a businesses incubator. I'm very happy to be part of this entrepreneurial community.
When did you begin selling your jewelry? Where did you first sell your pieces?
I started selling jewelry after the scholarship in Italy. My first sales were here in Uruguay. Nowadays, thanks to e-commerce and my presence in different shows, I'm selling to several countries.
You've had a number of exhibits and shows – what advice do you have for newcomers?
It is really hard. You have to be very patient. Shows are also very satisfying and encouraging, since you get to hear people make positive comments about your work.
What led you to sell on Etsy over other online marketplaces?
I find Etsy a very nice and intimate space to sell. I think most of the products on the site have soul and are made with lots of love. I like that very much. My pieces ooze this kind of spirit. They have a story to tell.
Your broken china jewelry is exquisite! Where did you learn the technique?
The first piece happened totally by chance. A friend of mine broke her grandmother's china plate and found an exquisite broken piece. She asked me to make a ring out of it. I found the idea very intriguing; I made the ring and later tried to find a good technique to make more pieces out of china. It wasn't easy, but I discovered how to do it with some very special help.
Can you describe the process of creating one of your broken china pieces?
The pieces are usually brought to me because they are broken already. I collect as much as I can and then chose some pieces to cut. While I'm cutting I try to envision what I'll do with each piece – if it is going to be a ring or a pendant.
Do you ever get requests from customers to use china that they own to make jewelry pieces?
Yes, all the time! These are very special pieces to me. It is much more work, but I love doing them because I can feel how special they are to each person. It takes more time but it's worth it.
What are your passions beyond jewelry?
I love everything related to art and design. I like to read but I'm very particular about the books. I love yoga. I like to draw, although I'm not very good at it. Maybe some day I'll be better at it. I love animals, especially dogs and horses. I love nature.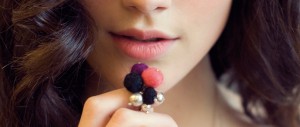 It's clear that Maria is on the right track – she scored her first two sales during the course of this interview. You can see more of Maria's unique jewelry in her Etsy shop and by visiting her Lookbook album on Facebook.
« 11 Blogging Mistakes That Make You Look Like an Amateur Treasury Making Made Simple with TreasuryBox »