Treasuries can
no longer be created
on Etsy as of October 5th, 2016. Thank you to everyone who used and supported TreasuryBox during the past few years.
Treasury-making on Etsy just got a whole lot easier! Introducing TreasuryBox – an extension for Google Chrome that helps you make treasuries in minutes while browsing Etsy. Fret no more about losing your treasury – with this handy extension, you won't lose your hard work even if you shut down your computer! Work on a treasury at leisure and still have it be fresh when you publish it on Etsy. Use the notification sender to quickly convo all the shops included in your treasury in two clicks.
How does it work?
Step 1: Install the extension
If you're using Chrome, you can use this extension. No, it will not do anything weird to your computer. Click the Install button on the TreasuryBox page. After installing the extension you'll notice a small treasury box icon in the upper right corner of your browser.

Step 2: Browse Etsy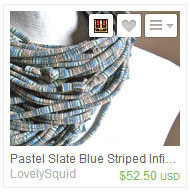 Find items from your favorites, browse, teams or search on Etsy – items will now have a treasury box icon next to the Favorite button. Click the icon on the item you want to include in a treasury and the item will be added to your treasury box. The treasury box icon in your browser will show the number of items in your treasury. The number box will turn gold when you reach 16 items.
Click on the browser icon to see the treasury in progress! Items that aren't available for inclusion in treasuries will show a red bar across the image to prompt you to choose another item.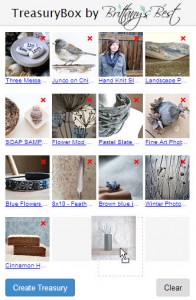 Step 3: Rearrange and create
Once you've chosen your 16 items, open the treasury box by clicking on the browser icon. You can rearrange by dragging, or remove items by clicking on the red 'x'. When you have it just the way you want, hit the blue 'Create Treasury' button and TreasuryBox will take you to Etsy's own create treasury page with the items filled in.
Step 4: Add a title, tags and description
Hit save and your treasury is complete!
Step 5: Send notifications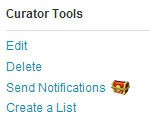 If you want to notify the shops that you included in the treasury to gain more exposure for your collection, it's easy. Click the 'Send Notifications' link that TreasuryBox adds under Curator Tools, type your message and send. The link to your treasury and the seller's featured listing are automatically included in your message. Your message is even saved for the next notification.
I'm so excited to offer this free extension and I hope it makes treasury making faster and easier for you. I do hope you'll try it out and spread the word to other treasury makers that you know.
Have a question about this extension? Please leave a comment below so that we can address it.
« Undiscovered Treasures: Maria Lasarga Better Together: Fennec Design Co. »