Amy of Amy Cooper Ceramics is far from undiscovered in the art world, with exhibitions throughout the U.K. and internationally. She's just opened her Etsy shop a week ago, so I'm sneaking her in as undiscovered on Etsy! Amy's whimsical ceramic lamps are meticulously hand-crafted and decorated with images from her garden and life.
Tell us about a typical day in the life of Amy Cooper.
I'm still fitting my work hours around my two young kids, so there isn't much of a typical day. My best work days are in the middle of the week when my daughter is at school and my son is at nursery or with his grandparents. I try to get out of the house as soon as the kids are dispatched so I don't lose momentum.
Luckily, my work "commute" is simply taking a few steps through the garden to my workshop. It's only a few feet away, but it feels like a world away from the domestic life. It's a quiet space where everything has its place. It's all mine, apart from my cat who owns an ever-increasing corner of my desk. The garage above my workshop is my husband's domain; since the kids were born, we work together on the ceramics. I often hear him clunking about upstairs, casting work or sanding bisque pieces (fired but not yet glazed).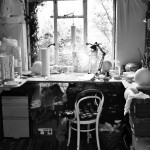 In the workshop, I usually have moulds to empty from the day before; I like to decorate about 12 pieces at a time while they're still soft. It's become a meditative process over the years – my mind wanders as I handle and coax my work into familiar designs. After lunch, I'll often fettle (trim) dry pieces or glaze bisque work.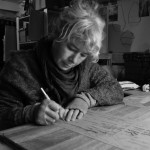 I work on new designs on an ideal day. I try to get out and do some drawings in situ for a stencil design if the weather allows, otherwise I work from photos taken on previous drawing trips. I'm lucky to have plenty of inspiration nearby – I live on a tidal river, so the view changes constantly as the tide comes and goes. Birds are always about and sculptural mudflats are revealed at low tide. There are woods all around that I'm particularly absorbed with at the moment.
I try to get some admin done before the kids come home, but I usually find myself working and reading emails with a glass of wine after they're in bed!
Tell us about your artistic journey, from growing up in rural Cornwall to international exhibitions.
Cornwall is a peninsula; the sea is all around, vital and beautiful and dangerous. It's impossible to grow up in Cornwall without a respect for the sea and the natural world. I loved the fascination, excitement, and fear the sea provoked. I could never get enough of beach combing for treasures. It's ironic that I chose Wolverhamptom to study, as it's one of the most landlocked places in the U.K.
I studied ceramics and sculpture and loved the interplay between the two. Sculpture takes a conceptual point of view while ceramics is all about the material and technique. Ceramics made a deep impression – by the time I graduated, all of my work was in clay.
In the U.K., students participate in a degree show which showcases the work of graduating students. I was fortunate to exhibit at several national shows with my degree work. It opened a lot of opportunities for me. After graduation, I moved to Brighton and joined a studio cooperative – it was a great place to start a creative business, a funky university town and back by the sea again! Brighton's coastline is quite different from Cornwall and it was fresh inspiration for my work.
In 2004, I was invited by Terra Delft to be a guest artist in their ceramic festival; I still stock them nearly ten years on. I was involved in various exhibiting groups and had lots of fun for a few years. Gradually, I found myself doing a ton of craft shows – 14 in a year was my record – as well as making trade orders. It was great fun, but I knew it wasn't sustainable. I felt there wasn't time to feed my creativity; when I got pregnant in 2007, I was ready for a change of pace. We moved out of Brighton to Devon and recently back to Cornwall.
How was The Prince's Trust involved in supporting your business?
I applied for a grant with The Prince's Trust after graduation. They were great – they gave me an interest-free loan to buy equipment and a business mentor who I met with every month for the first year to help me learn how to run a business.
How did you arrange your first exhibition? What do you remember about it?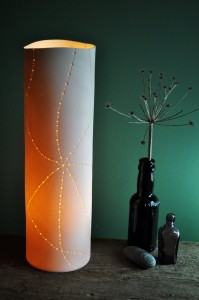 I approached the iO Gallery, a small artist's cooperative in Brighton that has an exhibition space in their basement. I made a proposal which to my delight they accepted! I was nervous and a bit disorganized, but I sold some work and it was a good experience.
Amy Cooper Ceramics started in 2003 – what prompted you to sell on Etsy after 10 years in business?
I'm always up to try something new. I recently made a Facebook page for my business; I've really enjoyed the response to my work and interaction with the public and other makers. Being in a shed in Cornwall can feel a bit isolated at times! Etsy felt like the next logical step. I'm only doing a few shows a year at the moment, so it's great to be out in the world while still being in my shed.
How much of your ceramics technique was self-taught?
I learnt many techniques in my degree course. The best part of knowing how things should be done is going out and playing with that knowledge – testing the boundaries and coming up with different ways of applying the techniques. None of the processes I use are unusual, but I combine and apply them in my own way. It's one of the brilliant things about ceramics – clay is an infinitely variable material, so there's many great and inspiring practitioners.
What's the process of creating one of your lamps?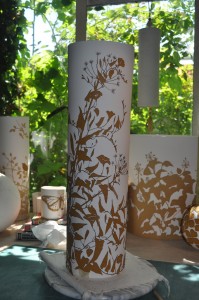 All of my pieces are slipcast – I use liquid porcelain (slip) in plaster moulds to create the forms. The moulds are originally made from clay or plaster models. The mould absorbs the water from the clay, creating a thin coating on the inside of the mould. The slip is then emptied out and the piece is allowed to rest overnight.
I have two distinct techniques at the moment – my 'original' range of work and my 'imagery' range.
The 'original' range pieces are removed from the mould while still soft; I manipulate the clay by pushing tools from the inside or making marks on the outside. The clay is allowed to dry before being fettled, sponged and bisque (low) fired. After bisque the pieces are wet-sanded to create a lovely, blemish-free surface. I either glaze them with a crawling glaze that creates a cracked-earth texture, or leave them naked to be diamond-polished after a second (high) firing.
The 'imagery' range of work is left to dry and then bisque fired and wet-sanded. I create a paper stencil from one of my drawings and apply it to the piece with glue, then sandblast it. The sandblasting erodes the clay surface except where it's protected by the stencil. Afterwards, the piece is high fired to create a soft silhouette with the inherent translucency of the porcelain.
How often do you damage or break a lamp in the process of creating your pieces?
It depends on how tired I am! It also depends on the design – some designs are particularly vulnerable to cracking in the firing as tension is created between very thin porcelain and thick glaze. I lose a lot less than I used to.
What designs have you been recently exploring?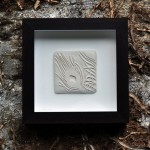 I'm enjoying drawing in the woods at the moment. I love the quiet, almost-secret atmosphere of the wood and the changing views throughout the year. The birds are now nearly in full spring mode, which is glorious to hear. I recently came across a granite obelisk, overgrown and mysterious, so I'm working on sketches of it. I've also been doing sketches of the local wind farm – another place with a powerful solitary atmosphere.
I hope to have a pendant shade this year and smaller, more accessibly-sized pieces to sandblast.
Thanks Amy for opening up and sharing so much of your life and work. I'm jealous of the workshop in the woods – suddenly my folding table in the living room is looking a bit poky! See more of Amy's work on her website and Etsy shop, or join her Facebook page to get updates and photos of her latest creations.