Sandra Nielen is a product designer and artist from the Netherlands. She quit her day job at a big design studio to start her own handmade furniture business, making custom pieces on order and connecting directly with her customers. Sandra's self-titled Etsy shop showcases her unique furniture creations.
You went to university for Industrial Product Design; what compelled you to focus on furniture?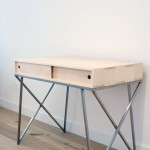 After graduation, I worked at a big studio to design furniture and products. I loved working on a team, but I missed the contact with the users. I wanted to be more involved in every step of creating a product – from the initial concept to knowing the people who are using it. I wanted something more direct. That's where I got the idea to start my own business. I wanted to create custom-made items, small scale production, with materials and methods I could do myself.
Wood is a material I've always loved, and furniture is a scale that I could manage alone. Furniture pieces are very personal – people use them for years. Furniture has an interesting combination of constraints: shape, construction, material, sustainability, ergonomics and cost.
Can you tell us about the time between graduating from university and starting your own business?
During my job at the studio I got more interested in designing furniture for my own business. I wanted a little more know-how about working with wood. I started woodworking courses. After that I got my first assignment, a king size bed for a toddler, which I finished after hours. I stopped working at the studio after two years to start my own business.
You have a unique collection of furniture held together with tensile strength rather than screws, glue or dowels. Is this your own technique?
I designed the construction of these furniture pieces myself, such as the way the steel cable runs through the shelving system. Tensile strength and steel cables are used in many different settings, though. [Ed. – suspension bridges, trusses and bicycle wheels are some well-known examples]
I love the idea of a seed library – how did you get involved with No Words But Seeds?
There are many seed libraries around the world, some small and others very big. A friend of mine started the seed library in Rotterdam. The library launched to the public during a food festival. I volunteered to make the furniture for this setting, along with a cabinet to store and display the seeds. I loved working on this assignment.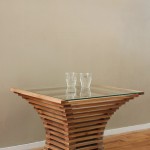 You've used a variety of woods in your projects, including Iroko wood. What woods do you prefer to work with?
I like Dutch wood the best – it's local for me, and there are many different trees growing in the Netherlands to produce furniture. Ash, Maple, Oak and Elm trees are some of the common ones.
You're part of a collective of artists called the Gang (de Bende). Has this helped you refine your craft?
De Bende is an art collective that creates furniture and other items made from waste material. Most of the time the products are for the public and created together with the public as well. It's a different way of working than my own business. It's lots of fun to work with the team.
What's your impression of the Etsy community so far?
There's so much on Etsy. There are many great creative pieces, and lots of smaller and less intricate items. It's a great way for people to show and sell their creations. My designs have been well-received in the community. I've been featured many times, but I have yet to make a sale. I think smaller, less expensive items may have an easier time on the site.
Can you tell us about your studio/work space?
All of my orders are custom, so I don't have items in stock. My workshop is small with only hand tools – no big table saw or piles of materials. For projects that need a bigger space or other tools, I work together with other professionals, like upholsters and metal workers, to share space.
What's the process of creating one of your pieces from start to finish?
I just finished my latest piece, a hexagon hanging bowl. I wanted something new and smaller for my collection. First, I used a material that I love but never get to work with – copper. I did a few trials with the material, not knowing what they would become.
I came up with the idea of making a hanging bowl, so I started sketching the shape of the wooden bowl. It became a hexagon, created from three identical pieces. After prototyping the bowl, I started work on the hanging system using copper. This turned out to be much more difficult.
I was learning to crochet for my daughter at the same time, so I tried crochet over the copper wire. It later turned into macramé, and in the end I replaced the copper wire with wax cord and copper tubes. Now the first hanging bowl is ready on Etsy!
Sandra has such stunning design and respect for her materials; I'm eager to see what she comes up with as she branches into smaller pieces. Follow Sandra on Facebook or visit her website to see more.
« Shop Local Colorado: PAGEFIFTYFIVE The Shop Critique: Product Photography »