Two years after opening my Etsy shop, I've come to a striking realization. I'm a hobby seller. It seems obvious in retrospect; I'm earning less than minimum wage on Etsy. I spend hours fretting over items and tearfully sell them for pennies on the dollar. I'm so grateful that anyone likes what I make that I've neglected to treat it like a business.
I'm not alone – there are legions of hobby sellers on Etsy undercharging for their labors of love. We're vessels of creativity, hoarders of supplies. Is it so shameful to create without yearning for big profits? What's the goal? Is there such a thing as too many beads? I don't know the answers.
The biggest question looms – is it time to turn my hobby into a real business? It's not a matter of commitment, but rather a fear of commercialization. I don't want to cut corners and compromise the quality of my work. I don't want to slap a pendant on a chain and declare it handmade.
Profit doesn't have to be a dirty word. I need to come to terms with it. There are plenty of Etsy sellers that I deeply respect making money. There is a way to keep artistic integrity and still run a business. A weekend of introspection led me to some distressing conclusions about how I've been running my shop.
Time isn't on my side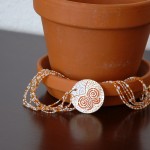 Some of the things I love to create are too time-consuming to make a profit. I've had scores of compliments on my micro-seed bead necklaces, but each necklace takes 12 hours or more to complete. Charging any reasonable price for my time would make them prohibitively expensive. If I ever hit it big, I could never produce them fast enough. There's no way to streamline the process. It's just me, the smallest needle you've ever seen, and a magnifier light. It's not a sustainable product for a business.
The outlook isn't so grim for my other items, but I still need to work smarter and produce faster. I love the creative process that goes into designing my napkin rings. I can spend hours choosing beads and revising a pattern to get it just right. It's time to get real and overcome my disdain for re-using a pattern. Each unique item means new photos, a new description – not to mention coming up with a name. I have no idea how many hours I've dragged myself over the coals trying to name a set of napkin rings.
Supplies ate my profits
What do your supplies cost? That's a question any serious seller should be able to answer, yet I've avoided thinking about it. I buy mixed beads and only use a few of them for each item. I buy wire by the spool and don't know how much I use per item. I can think of nothing more mundane than evaluating my supplies and finding more cost-efficient ways to create items. Even the words "cost-efficient" send shivers up my spine.
Running a business means chewing the gristle as well as the meat, so it has to be done. It's impossible to sensibly price items and figure out the best route to profit unless I know my supply cost. It's time to do battle with my most feared enemy – math.
Yes Virginia, there is a customer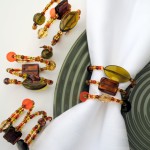 I have customers – I even have happy customers. I just don't have enough of them. The writing has been on the wall; at craft shows, I hear squeals of delight about how beautiful the napkin rings are – if only I entertained. I don't use cloth napkins. I wish my kitchen was bigger so I had somewhere to put these – I'd only use them once a year. Admirers are not customers.
Niche markets can be profitable, but it's a hard way to build a business. The truth is, you only need so many napkin rings. I need to diversify the items in my shop. I might even need to stop making items that I adore if I can't sell enough of them. Businesses can't survive without customers.
Pricing is hard
In my mind, I'm competing against Bed, Bath & Beyond. I imagine customers looking with disgust at my prices and opting to buy the mass-produced equivalent. I need to remember that people value handmade items. I happily pay more for handmade items when I shop on Etsy – I even avoid some less expensive items, fearing that they're poor quality.
Rather than match the hawkish retailer and drop my prices to the bottom, I need to respect my craft. I need to give myself permission to factor in supply costs, assume my time is worth at least minimum wage, and price accordingly with some meager profit.
I've mistakenly charged the same price on Etsy that I charge at craft fairs. I've failed to take into account the time spent taking and editing photos, writing descriptions and tags, and promoting my items.
I'm accustomed to being stuck in creativity ruts; a business rut is a whole new experience. I've made my confession – what is my penance? Change is difficult. I'm proud of my work. I've refined my creations, groomed my shop and improved my SEO. I've made treasuries, joined teams, Twittered my Facebook – but the sales remain stagnant. It's time to get serious. Maybe math is my penance.
» Editorial » Confessions of a Profitless Etsy Seller