Etsy caused quite a stir this August by switching the default sorting in search results to Relevancy instead of Most Recent. Etsy has attempted to help forlorn sellers with advice, videos and rule updates related to the change. The advice from Etsy is scattered over a dozen articles and hard to find, so I've attempted to gather it all in one place.
Relevancy is one of the major goals of search. Think about the last time you did a Google search and got a bunch of nonsense that wasn't what you wanted – it's frustrating. I'm surprised that Etsy wasn't using this as the default until now. Etsy's own test lab shows that users prefer relevancy search 15 times more than recency – that's a lot!
Love it or hate it, relevancy search isn't going away. If your shop stats are dipping since the change, it's time to get serious and learn to work with it. You might just find that you like it – shops now have more power to affect their search position than just relisting.
Word pairs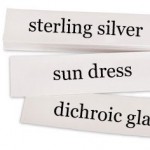 Etsy has introduced a search feature for relevancy that gives word pairs a tremendous amount of weight. Word pairs are phrases of more than one word that people use to search – think "silver necklace" or "beaded napkin rings". Items that match the searched phrase exactly are given priority and displayed above other search results. Exact matches in both the title and tags boosts an item even higher.
The word pairs are scored much better if the match is exact, but it doesn't have to be. A search for "red desk" will favor a title of "Classic Red Desk", but might also show "Red Sox Desk Set" or "Red Tulip Desk Lamp" further down in the search results.
Titles are king
There's one message that Etsy has pushed about relevancy search – titles are the most important factor in your listing. Titles are more important than tags, descriptions, recency, attributes and views. Real estate's mantra is "location, location, location" – Etsy's is now "titles, titles, titles!"
Titles are king with good reason – besides the picture, they're the best source of information customers have about your item in search results. Customers searching for "red desk" expect to see the words "red" and "desk" in the search results – otherwise the search seems broken. Tags and descriptions don't appear in search results – and the listing date only shows if you purposefully choose the list view.
Etsy weighs the position of word pairs in your title. In our "red desk" example, an item with the title "Classic Red Desk" will be favored more than "Shabby Chic Primitive Antique Red Desk", since the word pair appeared earlier in the title for the first item. Hindsight is 20/20 – if the customer had searched for "shabby chic desk" the latter item would have been positioned more prominently.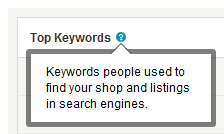 Most important is to use the best phrases for your item in the beginning of your title. How do you determine the best phrases? Etsy Shop Stats to the rescue! Log in to Etsy and go to Your Account > Shop Stats. This page will show you all sorts of interesting things about the people who found your shop – most importantly, the Top Keywords section will give you the best phrases for your titles and tags.
Another great source for keywords is the Etsy search box itself. Start typing a phrase into the Etsy search and you'll see suggested search terms pop down. These suggestions are popular search terms from real users. Try a few combinations that relate to your item and see what pops up!

Lastly, Etsy recommends title variation – don't use the same title format for similar items. Changing up the title will help diversify where your item appears in searches. Etsy's HeyMichelle gives this example for women's trifold wallets:
Women's wallet – art nouveau floral – trifold
Wallet – womens art deco cotton trifold
Retro womens wallet – black and white floral
Tags are a sometimes food
In the last few months, Etsy has taken a stance against tag "stuffing" – putting multiple words into tags like "blue coral turquoise". With the relevancy search change, Etsy has updated the DOs and DON'Ts to refine the rules about tags. The pertinent rules for tags now read:
You may use a short descriptive phrase as a tag if it accurately describes your item (for example: "sterling silver," "messenger bag," "steampunk cufflinks").
You may not stuff multiple words into a single tag that do not comprise a descriptive phrase (for example: "beach water sunset," "handbag purse clutch," "green red blue black.")
We've already covered "descriptive phrases" – also known as word pairs – that you'll absolutely want to put in your tags. If you can manage to get a commonly-searched word pair in both your title and your tags, you'll be ahead of the curve.
Recency still matters
Relisting is much less important with the search changes, but it hasn't entirely gone away. There are still places that recency is a factor:
Category pages are still sorted by Most Recent. Customers that navigate to categories like Coffee Tables will see the most recently renewed or created items.
The Etsy home page still has a Recently Listed Items section. It's the easiest way to get on the Etsy home page – although if you blink, you might miss it.
Broad search queries – searches that return more than 100,000 results – will use recency to sort the top matches. Etsy's example is a search for "dress" that returns nearly 180,000 results – "jewelry" returns over 2 million. In these hotly-contested areas where so many items match exactly, recency will still put you on the top.
Searches – while defaulting to Relevancy for sorting, there is also a prominently-featured strip along the top of each search showing Recently Listing items that match the search. There are 4 items showing, but 40 total if you page through with the arrow buttons.

Naturally, the Most Recent sort option is still available on searches even though it's no longer the default.
Even searches that aren't broad enough to hit the 100,000 mark seem to factor in recency. Switch to the list view in a search and you'll see that even though some items are a few weeks or months old, there's no real dinosaurs hanging around at the top of search results.
What doesn't matter
The Etsy search team has confirmed that these things do not affect search placement for relevancy search:
Descriptions – although Google scans descriptions, so these should still be written with SEO in mind.
Tag order – though Etsy recommends having the most descriptive tags first, since it may someday matter.
Item location (even for heavy items).
Number of views.
Number of listings in your shop.
Attributes – for now. Etsy encourages sellers to fill out the attributes, as they are being given a serious look for inclusion in relevancy search in the near future.
Punctuation in titles – this is automatically stripped out for search purposes.
Pluralization – titles and tags are stemmed before indexing, so having both "earring" and "earrings" in your tags is not necessary, and verbs like "beaded" will also match "bead" in a search.
As Gregg Donovan of the Etsy search team put it, "search is never done". The team will be looking for ways to improve relevancy and fine-tune results. In the meantime, Etsy has given sellers a great tool with Shop Stats and lots of information to digest about relevancy search.
» Etsy Tips » Etsy Relevancy Search Explained
« Undiscovered Treasures: Parsley Art Studio Beaded Cord Necklace »