Heather Matthews of Parsley Art Studio is an artist, adviser, teacher and counselor. Her art is eclectic, using many materials together to create mixed media pieces. She sat down to talk with me about art, life and a special upcoming anniversary.
What is the story behind the name Parsley Art Studio?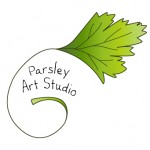 In 2009, I decided I should have a name for myself, so a friend and I started brainstorming. I loved the name Papaya Art that I'd heard from another artist.  I tried on another name first – Follow HLM – for about 6 months.  I loved the idea of following your heart and dreams, and Follow Studio had a cool ring.  However, one day someone got confused and thought my name was Follow Him. That's not what I ever intended my name to be, so I knew it had to change.  My love for cooking inspired Parsley – I was obsessed with putting fresh-from-the-garden parsley into every dish I made.  Parsley Art Studio had a good ring too, and after I made a logo I was stuck on it.  I love that it represents color and freshness.
How would you explain mixed media?

"Mixed media" is a broad term, and most of the time too vague for my liking.  It describes a piece that is made with many materials and using multiple techniques.  So it's not just all paint, or all fabric, or all wood, or all glass; it's a mix of things.  Collage is usually a large component of mixed media.  Mixed media for me means collage, acrylic paint, fabric, paper, and sewing all in one art piece, usually with some buttons or brads or other bits of 3-D texture thrown in.
What occupies your time when you're not "arting"?
I work at the local university, which is actually a great fit.  I'm an adviser and a counselor for undergraduate students.  I love it because it gives me a big dose of social interaction, which is the total opposite of what being in the art studio is like – quiet and alone.  I love to cook, and spending time with my friends and family is important.  I also like to be active outdoors and travel.
Where do you find your inspiration for your artwork?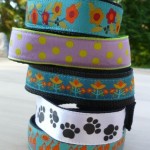 Other artists, all the time.  If I'm feeling uninspired or unmotivated, all I have to do is go read a few blogs or look at a few Flickr pages. I attend the city's First Friday walk often. Now that I think about art so much, I seek it out and I find art everywhere.  I'm also always inspired after a trip to the fabric store or art store.
I love the pop-up cards you made and featured on your blog. What was it like to make those?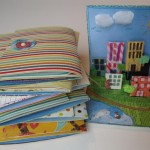 This year for the annual card swap that I host, I jumped head-first into making pop-up cards.  I got some library books and did some online research.  Turns out that pop-up cards can be quite complicated!  Then of course, my expectation for my work made the project twice as complex.  Each card had at least 21 small detail components to it, and I made 16 cards!  First I had to make the base that would pop-up.  Then in went the grass and sky, cut specifically around the pop-ups.  Next, the lake and path, then the buildings and trees. Each of those were individually colored and cut.  I wrapped the outside of the card in decorative paper and inserted a place to write a message.  Finally, the clouds, sun, sailboat, and outside button/string for keeping the card open or closed, and voila!  There was the most complicated, and the coolest pop-up card I'd ever seen.  Hours and hours went into making those 16 cards.
I learned a lot about quilting from my interview with Sew Darn Quilt. What do you like about your Small Quilt art instead of full size quilts?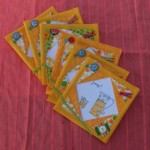 Full size quilts frustrate me.  Even though I love the beauty and function of a finished quilt, they are a lot of work with lots of steps that I don't enjoy.  I started doing mini-quilts when I learned to paper piece (a quilting technique involving sewing fabric to paper in different designs).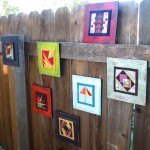 I discovered that the final outcome of a paper-pieced square was super satisfying if I just bound its 5″ edges and stuck it to a greeting card.  Instant gratification! Just an hour of work!  So I turned them into something more than a card and mounted them on specially designed backs as mixed media.
You attend and teach art classes. Which class has been your favorite?

I consider professional/personal development so important to my life.  Anytime I attend an art class, I am inspired, not just in my art, but to be a better artist and person!  I took a class with Lynne Perella in 2008 which actually turned my whole attitude around about being a professional artist.  This class and my conversations with other artists there caused me to create a goal and just do it.  No more talk.  Action.  Be brave.  Do it.  I also love to teach, as it brings people together in new ways – doing art, trying new things, and interacting with one another.  My two favorite things in one room: art and social time!  I don't have a favorite class to teach – I love them all.  People can see what I offer by visiting my website, and sign up by contacting me via email.
You're about to celebrate two big milestones – your 100th post and the 3rd year anniversary of your blog. Congrats! Where do you see yourself in three more years? 
In 3 years, I'd like to have a show or two under my belt.  I'd like to be teaching more regularly.  I'd like to be known in the Fort Collins world of artists, maybe doing some collaborative projects.  I hope my art is at a whole new level by then.  I hope to be selling stuff through Etsy pretty regularly too.  Not sure I'll manage to quit my day job in 3 years, but that would be an ultimate goal.  In the end, I aspire to run an interactive art center – a co-op of sorts, with work space, gallery space, classes, lockers, and all the equipment artists would need to do what they want to do.
To celebrate her 100th blog post and 3rd  year of blogging, Heather is offering a free handmade creation to anyone who visits her Etsy shop and posts a comment about it on her blog!  Visit her blog for full details.
« Friday's Fast Five: Etsy Search Changes Etsy Relevancy Search Explained »