Mother's Day is fast approaching and children young and old all over the world are racking their brains trying to think of a great gift for mom. What would mom like? Flowers, candy, jewelry, and clothing – it all seems like it's been done before. The last flower arrangement you bought threw dad into a sneezing frenzy and your parents had to take an emergency trip to the drugstore for allergy medication. Mom mentioned last week that she's going on a diet to prepare for summer, so candy is out of the question. She's got a whole drawer of earrings and clothing would require knowing more about your mother's dress size than you feel comfortable asking about.
I'm going to tell you about the best possible Mother's Day gift – one that anyone can afford and any mother would appreciate. I'm a huge fan of homemade gifts; I've made soap, candles, scrapbooks, slideshows, recipe books and other crafts for my mom over the years. I've given gifts, cards and bouquets of flowers. None of it is as unique and special as this perfect gift.
The perfect gift for your mom is you. Nothing you could possibly buy, make or dream up will mean as much to her as you do. No matter what time of the day I call or what my mom is doing, she will gladly put everything aside to have a conversation with me. Whenever I visit, the tears start flowing the second I have to leave – but it's quickly forgotten on the long drive home as I think about the things I need to do when I get back home. It's easy to get caught up in our lives and forget the things that are truly special.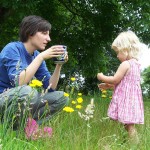 The women in my family used to have a tradition of planting flower pots together on Mother's Day, but since my Grandmommie passed no one has had the heart to carry it on. There are so many simple traditions – a luscious brunch, attending church or gathering with other family members. Don't let these things fade away. I guarantee your mom would rather spend time with you doing something simple and fun than be lavished with expensive gifts or get a card in the mail.
My brother has moved across the country and my sister is overseas, so visits have not been as feasible as they once were. Even with cell phones, Facebook, email and Skype it seems difficult to keep in touch. I used to call my mom daily – now it seems like once a week is the norm. Yet despite the infrequent calls, my mom is always excited to hear from me and I love to get filled in on all the family news. Time is precious and we have so little of it – there is no excuse for losing touch.
After talking with a few of my friends recently who have lost their mothers, I realized that having a mom on Mother's Day is a gift all its own. She raised you and cares as much about you as anyone you'll ever meet. There will come a day when mom isn't around and you'll wonder what was so important all those years that kept you so busy. So please take some time on May 8th and make a special effort to reconnect with your mom.