My siblings and I played with wooden spoon people crafted by my Grandmommie for years.
I took the idea from my Grandmommie to create an updated version of a wooden spoon family that is fun, cheap and can be easily modified to make your own. It is amazing how, with a few inexpensive supplies, you can make wooden spoon people of your own to look just like your family members or friends.
Supplies needed:
Wooden spoons in a variety of shapes and sizes
Felt sheets and/or  fabric remnants (I found that felt is much more forgiving than fabric and is easier to work with for this project)
Craft eyes
Embellishments (sequins, buttons, glitter, confetti, etc.)
Fine tip markers  (I used fine tip Sharpies for this project but other fine tip markers also work)
Scissors
Glue
**Washing the spoons in the dishwasher once and then drying or coating them with Mod Podge reduces the bleeding of marker on spoon.**
Instructions:
Step 1
Get inspired by gathering photos of the people you wish to create to start your wooden people project.
Step 2
Using a pen, pencil or marker, trace around the spoon onto felt or fabric to make a pattern for the hair.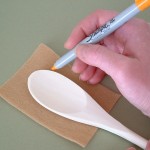 If you wish, you can draw on fine hair with a marker as well.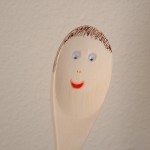 Step 3
Cut out hair piece and glue to the back of the spoon.
*I found it helpful to lightly coat the felt with glue and let dry for a few minutes before gluing to the spoon so that the glue was less likely to soak through the felt.*
Step 4
Cut strips of felt or fabric to cover the top of the spoon and create the "hairstyle" you desire. If using felt, you do not need to be concerned about perfectly cut pieces–as you can cut the felt after it is glued in place to suite your needs.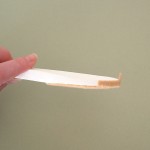 Step 5
Glue craft eyes in place.
Step 6
Using marker or pen, draw nose and mouth onto spoon face.
Step 7
Cut out, then glue felt or fabric pieces to handle of spoon to create "clothing" for your people making sure that the seam is always placed at the back of the spoon.
Step 8
Customize your wooden people by adding earrings, necklaces, belts, and other accessories using embellishments such as sequins, buttons, artificial gems, wire, string or yarn.
You may also use felt to dress up your people by making shirt collars, ties and belts. Try layering felt to create unique clothing.
Bring the whole gang together for a group photo.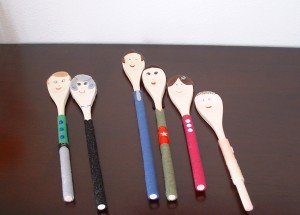 « The Best Mother's Day Present Vendor Virgin: Working the Craft Show »