Judy Weinberg of PhotosByJudy gives new meaning to the phrase "take it out back and shoot it." Inspiration for her photographs comes from all over, including her travels and her life on the East coast of the United States. With a keen eye and a sense of things that just go well together, her photos capture a wide variety of topics and scenes. Judy was kind enough to share some of her ideas and some photo tips for Etsy sellers, as well.
I am curious about your process; do you go out specifically to take photographs of a particular subject or do you tend to shoot spontaneously?
Both!  I draw inspiration from just about everything – driving around town, thrift stores, paper, old wooden tools, food, spare parts from my broken dryer. My method is definitely to stop and smell the roses. It's all out there waiting to be seen – and in some cases, rearranged.  My husband finds me with random objects from around the house and asks what I'm doing, to which I casually reply "Oh, I'm gonna take it out back and shoot it."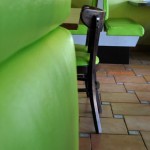 I like to rearrange items to mix the colors and use texture to bring joy and whimsy to the subject – whether it's lamps in the grass, lychee fruit in a bird's nest, small toy farmer figures on squash or dryer parts on handmade paper.  I love to capture details in architecture and nature, like odd lines of buildings. I have an adventurous, dear friend that wanders around towns and parks with me to capture images.
Where have you traveled, and what has been your favorite place to shoot?
I don't know that I've traveled all that much; I've been to Spain, Portugal, France, Canada, the Southwest, Cape Cod, Boston, Maryland and Washington D.C., Maine, Seattle, Vancover, California. Well, maybe I've traveled a bit – but it's a big world and there's always something to see, even in the places you've been before. My favorite place to shoot is wherever I am at the moment. A fun place that comes to mind is the Highline Park in NYC. I've been there twice and taken many photos both times; I can't wait to go back and shoot more.
Some of your photos are altered. Do you take some photos with the intent of altering them, or do you modify them after the fact?
I have shot with the intention of altering a photo; to date not one of those has worked as an altered image. Usually, the photos that end up altered aren't taken with that intent and they sit with me for quite a while. I keep coming back to them wondering what's missing. I start monkeying with them, and the next thing I know they're so different from the original – but I feel they convey what I wanted to capture better than the photo alone.
Many of your photos are of urban scenes. How are you able to find such beauty in an urban environment?
There is so much beauty in cities, we just need to look. The architectural details, lights and chandeliers, reflections of buildings in windows, bright bold colors – I love it all. When walking in the city, we're often thinking about where we're going or busy negotiating our way around the crowded street. But if you look up, there are plenty of rich, lovely buildings, parks, and people. The possibilities are endless.
Do you tend to follow the rules of composition or take photos more by instinct?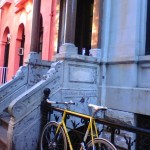 There's an aspect of both. I've always had an eye for photography, even at a very young age. I keep moving and angle the camera until it's just right. I like to shoot slowly, taking time to set up the shot and standing very still to ensure a crisp shot. That's essential, as I'm shooting with a small point and shoot camera. "Bikewall" was actually taken with my cheap little flip cell phone camera.
Another example is Magnolia Ballerina. I'm fiercely afraid of bees, and the blooming magnolia tree was absolutely humming with bees, but I went under it since I really wanted the shot. I stayed calm, took my time and focused on what I wanted to capture even though my natural response was to shake with fear and run away.
What can you tell us about the prints available in your shop?
Almost all of the prints are offered in multiple sizes, including note cards.  Print sizes range from 4×6 to 12×18. The note cards are a standard 4.5″ x 6.5″ with actual photos adhered to the paper stock, not printed on paper.  Cards can be custom-made with any text the customer would like printed on the front and inside. All photos are printed using archival-quality inks and paper to last a lifetime.
Do you make your own prints or do you take them somewhere for printing?
I prefer to print my own images to ensure that the color, cropping and overall quality are correct.
Many Etsy sellers struggle with photos. Do you have any tips or advice for those folks?
Most important is to make sure the item you're selling is in sharp focus. I see a lot of fuzzy product shots. Even though the product is wonderful, I wouldn't use the shot in a treasury. Pay attention to the background – is there paperwork in the background? A litter box?
Find a nice tablecloth to shoot on, or hang items on a low branch of a pretty tree. Shoot outside whenever possible – natural lighting is best, even on an overcast day. Get in close to the item; take your time to ensure as much of your product is in the frame as possible.  If you are using a point and shoot, press the button halfway down to let the camera get a good, sharp focus. Keep your elbows at your sides and slowly press the button all the way.
Can you tell us about the art community where you live?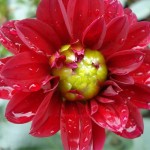 We have a wonderful month-long art festival in June. Every Friday night, we transform Main Street of our small town into a celebration of the arts. We also have a beautiful gallery in our borough hall, where artists are selected to show their work. The exhibit is a wonderful way to gain exposure and bring local art to the township, free of charge. We also have Open Mic nights and Acoustic Night – and wonderful little bookstore that hosts music and small theater events free of charge. Oh, one more! We have an old independently-owned theater that hosts plays, classes and films.
I can't wait to see what she captures in her viewfinder next. Keep up with Judy, see more of her work and read her artist's statement at JudyWeinbergPhotography.com. Purchase her fantastic prints and cards by visiting her Etsy shop.