Aurore Quain of Patati et Patata creates wonderful gouache paintings, greeting cards and prints. Her unique style pairs painting with collage, assembling the final painting from many pieces painted separately. She was born in France and recently moved to the U.S. to be with her husband. Aurore took some time to answer some questions about her art and life.
What made you choose the phrase "Patati et Patata" as your shop name on Etsy?
Patati et patata is an expression you hear in France every day from children or adults speaking to children. It's used when in English you would say: "…so on and so forth". Plus it's really French, it sounds cute and it's easy for anyone to pronounce!
The adoption is a big part of your art work. Can you tell us the story behind that?
I have always felt like adoption would be part of my life in some way. To me, the essence of being a parent isn't about whether or not you share the same genes, it's about making the commitment of caring for another soul. I received an email with a picture of a dachshund that had adopted a piglet into her litter. It was just a perfect image that made me realize how much we can learn from animals. From there came the idea of how to present the concept of adoption to children of any household, whether the parents are of a different ethnicity or same sex. So I went on the internet and researched true stories of inter-species adoption.
Your art work is enthralling. Do you have professional training as an artist?
Thank you so much! Mostly I am self taught. As a Kindergarten teacher, I used my drawings to connect with my students through various projects. When I saw how well the children responded and realized how much I enjoyed the process, I decided to continue outside of the classroom. My only professional training came with afternoons spent in artist Lezley Saar's studio. I feel fortunate to have had such incredible guidance.
What paints and techniques do you use in your art work?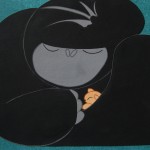 I start drawing with pencil. I like round forms so usually my characters start out as big circles. Then gradually I fill spaces, erase lines and out comes the character. After that I use gouache. I love gouache! The texture is so rich and the colors so full. I draw everything separately, cut it out, and then assemble it. The background is usually made using collage of various materials that I have collected (wrapping paper, fabric, buttons, ribbons, sheet music etc).
What made you choose the collage style over traditional painting on a single canvas?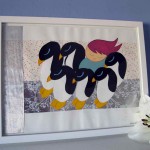 This is an influence of having had lessons with Lezley Saar. The first day I walked into her studio I was thrilled to see a huge collection of collage material that she had amassed over many years. She gave me the freedom to use any of it. Since then I have never considered giving up the inspiration that comes from using collage.
Your early items posted on Etsy were cards and the shop has transitioned into art prints. What prompted the shift in direction?
Prints were supposed to come first, but I had a tough time getting the quality that I want. Now that I am able to accurately represent my work with archival quality paper and pigment I'm content with the results.
Lulla and Bell are adorable. Do you have bigger projects in mind for these characters?
Every drawing you see on Etsy is originally part of story. Lulla and Bell started their lives in a story that I wrote as part of a project with my kindergartners. I have many adventures prepared for Lulla and Bell! I would love to see those stories published. In the meantime, I have started creating my own little books and will be showing them on Etsy as soon as they are done!
The clumsy cat and the loud Chihuahua mentioned in your profile remind me of our pets. Have you thought of creating characters in their likeness?
Bell bears a strong resemblance to our dog Tallulah. Whereas Suko, our snow shoe Siamese, is a character still in development along with Moop , a trio of toddlers, books on graphism, colors and shapes, more stories with animals and a multitude of tiny insects… et patati et patata!
When did you move to the US? What brought you overseas?
I moved to Los Angeles 5 years ago. I was living in Strasbourg, France where I had attended college and begun my teaching career. While visiting my parents in L.A., I took yoga classes with the charming man who is now my husband Christopher. After being married that fall we had to commute for two years between Strasbourg and L.A. Finally I got a job, moved here and the rest is history!
You opened your shop in August last year. What have you learned on Etsy so far?
To begin with let me say that I feel like I have lots and lots to learn. So, where to start? At first I was overwhelmed with the vast numbers of shops and products out there. I didn't know what my shop should or even could be. After a while though, I began to identify different things that make me love a shop or pass it by. I found people, products and methods of presentation that charm and inspire me. At the same time I began asking questions of other vendors who I found to be remarkably helpful. So, to answer your question, I've learned to only put up photos that clearly show the item. I've learned to give simple, clear descriptions and to offer reasonable prices. Most of all though I've learned that Etsy is a real community with a lot of really friendly vendors and shoppers!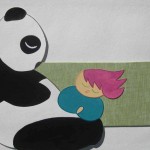 What your favorite item in Etsy in your Etsy shop?
Even though my husband always says that Bell is my sweetest character, I love Lulla because she is what started everything! I always seem to come back to Lulla and the Panda (as an original painting).
Visit Aurore on her Facebook page to see more of her adorable creations. Thanks, Aurore!