If you can sew a straight line, you can make this cute hide and seek puzzle. I made mine for my niece but have found that adults seem to be drawn to the puzzle too. My husband's friend asked if I would make him a smaller version for his desk, so I did. I will include directions for both in this tutorial.
This fun puzzle is a great way to keep kids occupied and is easy to tote around in the car, to Grandma's or the doctor's office. The fabric pillow contains a window to see inside where several miniature objects swim around in plastic beads. The trick is to find all 20 objects. Make the game more challenging for kids by having the pillow remain flat on a surface. You can also add additional beads and miniature objects.
Note that this project does contain small objects and may not be suitable for all ages. While small objects should remain in the pillow, be sure to supervise children when playing with puzzle pillow.
Supplies needed:
18″ x 11″ piece of fabric for larger pillow (remnants work great and keep cost down) or 11″ x 8″ for smaller pillow
Thread to match chosen fabric
1/8 yard clear vinyl (found at craft stores in fabric dept.)
8oz – 1lb bag of bean bag fill (depending on how full you want your pillow and size of pillow you choose to make)
20 miniature objects (safety pins, paper clips, buttons, etc.)
Ruler
Chalk or pencil to mark fabric
Scissors
Sewing needle
Sewing machine (not required but helps make project go faster)
Instructions:
Step 1
Iron fabric to get all creases and wrinkles out.
Step 2
Measure, mark and cut:
one piece of fabric to either 18″ x 11″ (larger pillow) or 11″ x 8″ (smaller pillow)
one piece of clear vinyl to either 5 1/2″ x 3 1/2 (larger pillow) or 4″ x 4″ (smaller pillow)
Step 3
Fold fabric in half making a 11″ x 9″ rectangle (8″ x 5 1/2″ for smaller pillow) and iron crease in center.
From the center of the pillow, measure 3 inches and mark then 6 inches and mark (1 1/2 and 4 inches for smaller pillow).
Now from the sides, measure and mark 3 inches and then 8 inches (2 1/2 and 5 1/2 for smaller pillow).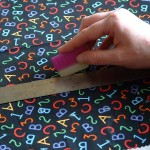 Using ruler, connect the marks, making a rectangle.
Step 4
Cut a slit in the center of the rectangle.
Step 5
Starting from the center, carefully cut line towards each corner making sure you stop at the chalked line.
Cut out excess fabric inside rectangle, making sure you leave at least 1/4″ of fabric.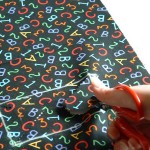 Step 6
Flip fabric so that the underneath side is facing up.
Turn up flaps and iron along chalk line.
Step 7
Pin vinyl to fabric.
* Tip: Once vinyl is secured with pins to fabric, pin a piece of the paper that came with the vinyl (or wax paper) to the plastic so that it does not get caught on the foot of the sewing machine.
Step 8
Sew vinyl to fabric using sewing machine (or hand stitching).
Step 9
Peel away paper from vinyl.
Step 10
With bag inside out, align edges and pin.
Make sure that you leave a 3 inch opening in one of the sides so you can fill your pillow!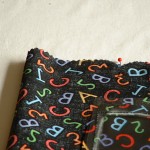 Sew along edges leaving 1/8 to 1/4 inch around edge. Don't sew it totally shut–make sure you leave an opening for filler.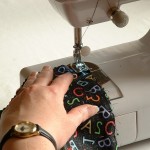 Step 11
Turn bag right side out.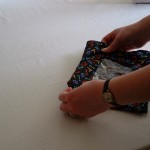 Step 12
Cut small hole in bag of filler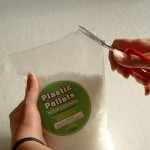 Step 13
Carefully fill pillow with filler.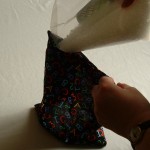 Step 14
Choose your miniature objects.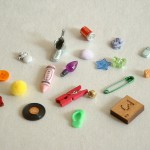 Then add them to pillow with the filler.
*Optional:  If you have a camera and printer, you can take a picture of your small objects before inserting them into the bag. Using your printer, print out small picture on cardstock. Punch hole in upper corner of cardstock. Attach object key card to pillow with yarn or ribbon and safety pins once the pillow is complete.
Step 15
Tuck edges of opening inside bag and sew shut with needle and thread.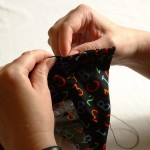 Now your puzzle pillow is ready to play with!