Kathleen from The Grocery Store breaks the greeting card mold with cards that you would actually send to your friends. She also makes unique felt creations with a bit of an oddball twist. These silly cards are bound to get you laughing!
Your profile says you're a soon to be starving grad student. What are you studying?
I posted that to my profile when I decided to quit my bookstore manager gig and go back to school for my M.A. in the Humanities. I guess I'd say my focus is on contemporary, popular American Literature – I'm writing my thesis on the Twilight series. I haven't starved yet, but it always seems sorta imminent, so I figured I'd leave it on there.
They say art is inspired by life – your creations certainly seem to have a story behind them. Can you tell us about them?
The most story-inspired item is probably the set of "Moooving-in" cards, since I made them right after I decided to live with my sweet boyfriend. I'm at an age where a lot of my friends are doing major milestone things (weddings, houses, babies) and I wondered why there weren't congratulation cards for shackin' up. I'd like to do a whole series commemorating awkward and obscure events, like "Clean Bill of Health!" and " Good job, you filed early!" because I think there should be more causes for celebration.
Also, the Cards for Boys were all illustrated from scenarios my boyfriend said he would like to see on greeting cards.
The Snacks for Friends series is awesome! We giggle every time we see them. What made you choose food products as your subject?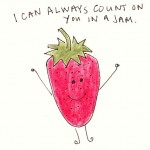 Well, for the past couple of years I've made Valentine cards to give away- at first they were kind of dirty, but when I decided to give some to coworkers I wanted something a little sweeter, so I started in with the fruit. My mom has a collection of Valentine's from when she was a kid in the fifties and a lot of them have picture of goofy cartoon food with sappy captions that are like " You're a peach!" and " I'm nuts about you!" and I guess these inspired me. There are a lot of available puns with food so it seemed like a natural progression.
What's up with your Etsy profile picture? I'm reminded of Dorothy.
Haha, I hadn't thought of that! But now I'm picturing myself running around town with my stuff in a picnic basket, and it seems to fit. I think I put that up there because I love (and frequently photograph) my shoes.
Your art style is simple and endearing, but the humor is biting. Your cards remind me of nataliedee.com. Is the artwork simply a hobby or would you like to see it grow into something more full-time?
I wasn't familiar with Natalie Dee before, but now you've gotten me uh-bsessed. I just posted a trillion comics to my friends on Facebook. I consider drawing a hobby, but one that has become super important to me in the past year. I've been reading a lot of Lynda Barry, and it makes me so sad to think about the people who stopped drawing when they were kids because they thought they were "bad" at it. I do want to spend more time on drawing and creating in the future and I would like to improve my Etsy shop, but if it never even becomes a part-time success, I would be okay with it. I'd just keep on making weird postcards for my friends!
The farm fresh eggs are different from the other items in your shop. Have you made any other felt creations?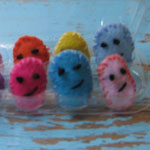 I get really into holiday crafts. I made some big ones for our Easter baskets (see, total holiday geek) and some little ones to fit in those miniature plastic egg crates you can get Easter egg-shaped bubble gum in. I've made some felt things before, birds that looked more like seals, snowmen that seemed weirdly misanthropic (you can see why I didn't post these) and last Christmas I made pop culture finger puppets to send to far away pals. I think I did Batman, Waldo, Miss Piggy, Annie Oakley, the Twinkie guy and Lady Gaga.
Some of the farm fresh eggs seem much happier than the others. Have you had any egg prototypes slip into depression?
Constantly.
The Collections and Quick Bites are definitely more random – where do you picture them landing?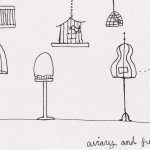 I have this thing where I get really obsessed with themes, so for a while I was having a hard time drawing because I felt like everything had to belong in a grocery store. I needed to give myself permission to just make stuff again, so I spent some time drawing whatever came to me while I was Netflix- streaming "Murder, She Wrote" (don't judge!) over Spring Break. These were the result. I created the Sundries category because it sounded kinda General Store –ish and I figured it would give me a way to list my more random stuff, like the shrines I made for the heck of it.
What prompted you to list your items on Etsy?
Honestly, I started my Etsy shop because I wanted it to push me to keep creating work. I don't sell anywhere else.
How do you market your Etsy shop? Do you have a website or Facebook page?
This is probably the closest I've come to marketing. Sometimes I post new items on my Facebook. This is embarrassing, but sometimes "new Facebook" confuses me. I used to have a link to Etsy on my old profile, but it disappeared around the same time all album photographs started showing up in that black pop-up window. Sometimes I am a total technology space cadet, which is why I stick to hand-drawing my anthropomorphic strawberries.
Keep The Grocery Store in mind when a traditional greeting card just won't do. Thanks Kathleen for giving us a peek into your world – we're looking forward to the Twilight cards inspired by your thesis!