Jutta Green from Green Designs is an unbridled creator born with a pencil in her hand. She's gone from drawing to photography, from architecture to graphic design, from knitting to dyeing her own yarn, and now on to thrown pottery. Jutta's shop echoes her wide range of creativity, offering natural stone jewelry, hand-dyed yarn and fine art photography.
Tell us a little bit about yourself.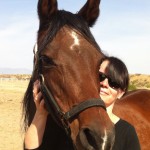 I am a German native; I followed my husband to the U.S. 16 years ago. I miss home terribly, but I've started to feel at home in Colorado as well. I have a master's degree in architecture and a passion for design. Aside from painting, drawing and a ton of other channels to express my need to create, I'm a Nature lover and would spent my entire life outside if possible. I love to ride; I share my life with two Arabian mares and I have two children – one human, one canine. That's no joke, I truly believe my Golden thinks she is the fourth human in the house.
What made you leave the world of architecture for freelancing?
Architecture in Europe is very different from architecture in the U.S. In Germany, I focused on concepts like self-sustainable, eco-friendly houses – houses that grow outward in the warm months and shrink inward in the cold months. There were no career opportunities to be found coming to Kentucky with my military husband. Moving with a service member often leaves the spouse's career on hold. I was also four months pregnant with my daughter and wanted to take the time to stay at home and get to know this new human being. Freelancing allowed me do that and gave me the time to rekindle my love for art and design.
Your shop shows your wealth of talent with photography, jewelry design, hand-dyed yarns and knit items. Do you go through love affairs with different mediums?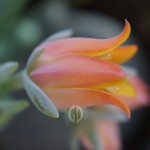 I do, I sometimes have to restrain myself not to stray too much. I started drawing and photography when I was still in high school, which led me quickly to different mediums. Lots of artists just love to explore; it is the natural course, but it's easy to get lost that way. After all, there's only so many hours in a day.
A friend loaned me a spinning wheel to try out – once you explore colors in yarn it leads you to texture. It's a dangerous path!
How have you incorporated sustainability into your shop?
It's a strange question, since it's so ingrained for me. I come from a country that's very environmentally-conscious. Recycling and re-using has always been a part of my life. We recycle, compost, eliminate waste where possible, grow our own food – I have a ton of fruit each year. I remember when I first came to the U.S., people would look at me funny when I brought my own shopping bags to the store. I'm happy that things are on the upswing in this country.
I strayed a bit from the original question. In my shop, I recycle or reuse whatever I can. I use sustainable materials, design and print my own labels, and whatever else can be done in-house.
Your hand dyed/painted yarns are gorgeous. What's the difference between dyed and painted yarns? What makes hand-dyed yarn more appealing than run of the mill, store-bought yarn?
The difference is in the method – dyed yarn is immersed in color, painted yarn is done with a brush or bottle. There's nothing wrong with commercially-dyed yarn – there are many beautiful yarns out there, some of which I use in my knitted creations. As a knitter, I came to a point where I appreciated an artfully created skein of yarn – something one of a kind, maybe a combination of materials like silk and cashmere that you can't find on the shelf. It takes a lot of time to design and knit something; like any other artist, you start to explore new tools, colors and materials. Hand-dyers can create something specifically for you.
Without divulging any trade secrets, can you talk about where your yarn comes from?
When I first started, I ordered in small cones from an internet source that offers a variety of un-dyed spun yarn. I didn't know if others would enjoy my taste in colors, so I started small. Since then, I've opened a wholesale account with one of the largest suppliers in the U.S. (my personal candy store) which brings down my expenses a bit.
Most of your jewelry pieces are created using natural stones. What draws you to these materials?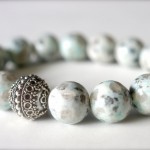 I've been collecting stones and rocks as long as I can remember. I have rocks from almost every place I've visited. When I got older the collection expanded to semi-precious stones, mostly in their rough form. They are very beautiful, I have them in every room of our house.
I'm kind of a health nut – a big fan of healthy food and homeopathy; while working with stones, you're bound to discover the effects they have on the mind and body. I know that sounds a bit new age, but I have many customers that order stones for special purposes and not simply because they look pretty.
Your daughter is often the model for your photo shoots – is it a fun, bonding time or do you drag her kicking and screaming into the studio?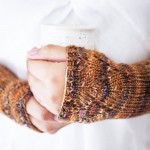 I think she enjoys it. She loves to share the photos on the social media sites she frequents, which gives me some exposure to that age group and some feedback as well. Sometimes she gets a bit exhausted with mom trying to get the "perfect" shot, but we have it down pretty well now. The only problem is prying my creations out of her hands after the photo shoot! She'd like to keep everything I make, which of course is the biggest possible compliment.
Do you have plans to show your work outside of Etsy in 2014?
I started selling in local craft shows last year, I'm sure I'll try it again. It was a nice experience for me – I enjoyed meeting people and other artists. People also love to touch yarn and knit products. We all know that no matter how good a photo is, it can't replace touching an item.
Touch Jutta's items yourself by ordering from her Green Designs Etsy shop! You can also follow her on Facebook or her blog. Sign up for her quarterly newsletter for news, specials and much more.
« How to Enhance Your Facebook Page in 5 Minutes Free 5 Minute Shop Reviews with Peek »