Frederick Doerpholz of Light a Fire is an artist and Colorado native who pushes the boundaries of ceramics with industrial-inspired designs. He creates and fires a dizzying array of cups, bowls, mugs, sculpture and other pieces in his studio in Denver. Frederick sat down to answer some questions about his art, process and history.
You've traveled far and wide. Have your travels influenced your art?
Yes, very much so. It's important to look to a wide range of cultures and locales for inspiration. There's so much to be learned traveling the world – you make yourself more vulnerable than in your day to day life. My time in Morocco, where I worked and lived with local artisans, helped me see how people living under circumstances very different than ours can make wonderful, fulfilling lives for themselves doing what they love. I'm humbled when I visit other places and see how kind and open artist communities can be to strangers. Really, every adventure is one that influences my work.
What got you started in ceramics? Where did you learn the craft?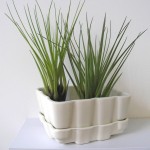 I have to credit my parents for always pushing us to seek out art. They helped us try to understand it and appreciate the value of handmade things. I was lucky to attend a high school with an advanced ceramics program. The pottery teacher took me under her wing and showed me that art can be a real career path. I was a very distracted youth – clay gave me a positive outlet for my time and energy.
When I decided to go to college, I knew it would be for ceramics. I ended up at Colorado Mesa University in Grand Junction, CO where they had just completed construction of a state-of-the-art ceramics facility. The instructor there pushed me to always be learning and growing and proved that the possibilities are endless with earth as a medium. Though life has taken me many places, I always keep clay as my preferred material.
What draws you back to clay?
When I was first starting out, something occurred to me that I've carried with me – once fired, clay is pretty much forever. We can take a fired piece of clay and break it down and make something new from it, but once it's undergone that magical transformation from raw earth to glass, we may find that like many civilizations before us, our ceramics are some of the only things to survive. The fact that we can learn about the history of humanity through clay is fascinating to me. I'm not concerned with my work surviving forever, but I hope my work will inspire people to take their life's work to a higher level. I see clay as the most intuitive of all materials – with its versatility and accessibility, it's no wonder that clay plays a role in creation myths the world over.
You say that artists should have the chance to live valuable lives making art – many artists have difficulty doing this. Do you see any common pitfall of artists on Etsy?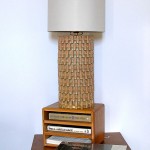 I sure wish I had the formula for success, but alas, I too find myself struggling to get by as a member of the cultural commodity sector. It sounds cliché, but as far as Etsy is concerned you can't put all your eggs in one basket. One has to be constantly looking for new forums and sales opportunities. Online sales have been hit or miss for me, though I am relatively new to the process.
Considering my background in sustainability and Locavorism, I wrestle with adding to the status quo of the global economy. The pattern of buy, sell, trade, and ship to anywhere in the world is remarkable, but it does take a toll on our planet and communities.
Describe your art space for us.
When my wife and I moved back to Denver after years away, we found a city growing at an unprecedented pace. People are moving here in droves, which makes finding any housing intense. Finding work and live space for a ceramics artist in particular is difficult.
The first year in town, we lived in a communal artist living space with limited facilities. I was forced to do drawing, painting and print making full-time. I working in 2D, but my heart is more in sculpting and vessel making – so when we found the Dry Ice Factory located in Denver's RiNo (River North) arts district, I couldn't have been happier. It's an amazing space. The native red brick building is a converted factory once used in the production of carbonation for fountain drinks. The factory is home to more than 30 artists; there are ten ceramic artists currently working out of the ceramics studio. We each have our own small personal space, but have access to a large open workshop and two rooms filled with electric and gas fired kilns. It also has a range of advanced tools for ceramics production. We are very blessed.
How do you shape your clay before firing?
I try not to limit my creative process. From the beginning of my career, I worked either with hand-building methods – slabs of clay, coils, wheel-thrown and so forth – but during and after graduate school I started exploring the versatility of slip casting molds and mold making. Much of my income comes from my ability to make molds for other people or to reproduce the same piece time and time again. Ceramics is definitely still on the precipice of becoming an acceptable "fine art material," so to say one method is better over another is impossible if we're to push the boundaries and advance the craft. Throwing on the potter's wheel is still one of my favorite ways of making – most of my Etsy items are created this way.
How do you do your firings and how often?
I was trained to fire work to around 2400 degrees Fahrenheit (cone 10), but I've found I can still achieve wonderful results with less heat. I've been reformulating glazes and bringing the temperature down several hundred degrees to limit my environmental impact and overhead costs. I use primarily large electric kilns fired two or three times a month and one 32 cubic foot natural gas kiln fired once every three months or so. The color results vary between gas and electric, so I have to use my better judgment. A friend said the true curse of ceramic artists is that a work is never really finished because there are so many stages and steps. I suppose it's also a blessing that if we don't like something, we can put it in the kiln and try again.
What's unique about the materials you use?
This is one of the best aspects of clay – it's everywhere. Knowing how to take the raw material back to the studio and manipulate it is the real challenge. I have clay slips from deposits near Golden, CO that I'm still in the early stages of formulating and getting into finished products; the results I've had so far are astonishing. People who don't know our geology in Colorado might not know that there are clay deposits that stretch nearly the entire Front Range. These "Dakota Ridge" deposits contain everything from porcelain to the deep red earth used in the bricks dominating the Denver skyline. It's important to me to use materials mined close to home. Ceramics may never be fully independent of big industry, but we can do our best to try to make a smaller footprint by using abundant materials that don't travel more than 200 to 400 miles. I hope to be releasing a line of work made entirely from local materials in 2013.
Your bolt espresso cups are my very favorite thing in your shop. Where did the idea come from?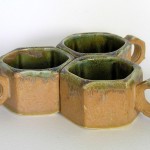 They were inspired by my father-in-law who worked for a local power plant. He collects unique tools of the energy industry; he had these massive nuts and bolts that were used to hold down colossal cranes and towers at the plant. I messed around with some of them one day and thought they could translate into ergonomic, industrial-looking household items. The mix of the ergonomic and industrial plays into all of my work.
Do you sell anywhere other than Etsy?
I used to be very involved in craft fairs all over the Western U.S., but it became too stressful for me. I felt like people expected things to be cheap and that bartering was acceptable. I price my work very fair – often well below market value. I loved the interaction between customer and creator, but the pressure to give my work away became too much to bear. For now, I'm shooting for gallery representation and selling out of my studio.
When you are not working on your ceramics, what occupies your time?
Being a good son and loving husband occupies every free moment I have beyond the studio. For fun I like to spend time in nature. The earth is my strongest source for inspiration. There's beauty all around us. I only hope to capture a glimpse of this beauty, to inspire all people to love and care for the planet and their community.
I have noticed a trend in Northern Colorado of buyers choosing both handmade and locally made/sourced products. Is there a strong 'shop local' movement in Denver?
You know, I certainly hope so. The trend is not quite catching on en-masse, but I will hold out for the day when we can all support one another right here at home. People need to stop putting their financial faith in a market driven by speculation, quick rewards and empty promises. Instead, we all need to look towards real, creative and tangible efforts happening all around us.
Frederick and his unique ceramic creations can always be found on Etsy and Facebook.
« Friday's Fast Five: Goal Setting for Etsy Sellers Understand the Java Exploit »