Timea of Mighty Vintage keeps her eyes peeled for fantastic vintage finds; she has a knack for selecting the finest German pottery, gorgeous accessories and home decor pieces. She shared what it's like to be an international vintage seller and writer for the German Etsy Blog.
This year, you quit your day job and started selling on Etsy full-time. What's the experience been like?
I'm still trying to get used to it. It's such a luxury – and very surreal. I often have to pinch myself. The decision came naturally and was inevitable. There are only 24 hours in a day; I had to let go of either sleeping, my Etsy shop or my full-time job. So I took the plunge – and have not regretted it since.
Tell us about a day in the life of Mighty Vintage – how is your time divided between shopping, photographing and listing items, promotion and shipping?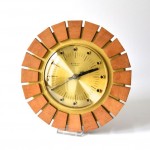 I don't have a real structure yet, but I'm working on it. I just go with the flow. Many tasks structure your day – like photographing, where you drop everything when the light is nice (which is a rare treat in Berlin from October to March), or urgent shipping. I try to squeeze in listing items here and there during the day. Sundays are spent at flea markets and I go to thrift stores once a week, but shopping takes up surprisingly little of my time. Creative work is a moody creature and there are days when photographing and authoring listings comes easily – on other days it just won't, no matter what I do. I dreaded the monotony at my old job; what I love about my new job now is having so many diverse tasks that I can switch to in case I need a change. I can go into my basement, for example, and package my orders. Packaging is very calming, like yoga.
The Etsy Berlin Street Team has been a big help to your shop – what do you like about the team?
My experiences with vintage and selling online on Etsy are very specific topics. You can rant and chatter to your friends and family only so long until someone just surrenders when you talk about treasuries, shipping problems and shop stats. Meeting people who just know what you're talking about is great. The fact that I had role models in the Berlin community, who quit their jobs and made it, was really important to me. I saw how life and work could be – no matter how unrealistic your dreams; to a certain extent you can live them all. I met really good friends in the team who supported me and nurtured me and my ideas. I never would've taken the step to quit my day job without the team.
You've heard many heart-felt stories about the vintage items you find – what's your favorite?
There was a buyer who discovered a glass baking pan in my shop that was the same model she broke the day before. She got it from her Grandma who had passed away – they always used to bake together and she was heartbroken when she dropped the dish. I even had the original 50-year-old packaging. I never thought I could make someone this happy with what I do – and certainly not with a baking dish.
You advise considering how an item will photograph before buying it – have you let any superb items go for this reason?

Certainly! It happened too many times that I was frustrated with an object while photographing because it just didn't look good. It's even more frustrating when you put all that work into it and it doesn't sell. It's still a very important criterion for me.
How did you get a spot writing for the German Etsy blog? What has the effect been on your shop?


I go to the Etsy Berlin Street Team meetings and got to know a lot of handmade artists in Berlin – and also Etsy admins from the Berlin Etsy office. I'm a little Miss know-it-all when it comes to my shop. I read everything on the Etsy Blog about legal conditions, shipping, customs, taxes and product photography. It's really an obsession and I hoarded all this knowledge. I guess word got out somehow and the former captain of the team, who now works for the Etsy office, asked me if I wanted to write a guide on selling vintage since there wasn't one in German. I agreed and as it turned out, I really enjoy it. Writing is so much fun! They will also be translated into English soon.
Revenue-wise I can't really assess if there's an impact. I do get thankful convos from new sellers who are as anxious and excited as I was back then. That is a pretty good feeling.
I imagine you ship many items internationally. Many sellers fear international shipping – have you had any shipments go awry?
I've never lost anything. I've sold pottery pieces that it seems I didn't package well enough and they arrived broken. I sold a wall plate with a beautiful crane on it to a buyer in the US; he collects these KMK plates. It arrived broken. He was so sad about it that I sourced another one (a super-coincidence) and shipped it again – and it arrived broken again. To this day I haven't found a third one. That was my only bad experience with international shipping. I live in Berlin, so most of my customers are from the US or Australia. These are a lot of buyers I wouldn't have otherwise.
Timea has vaulted her shop to success with a keen eye for vintage items, excellent customer service and great photos. She does no promotion on social media or outside of Etsy. It's a good reminder that sticking to the basics works, as Brooke pointed out in her Being Exceptional on Etsy guest blog. I'm looking forward to the English translation of Timea's Etsy articles! Visit Timea at her Mighty Vintage Etsy shop to see more of her vintage finds.
« The Degradation of Handmade: Etsy's Fight with Itself USPS Shipping Calculator »