These adorable Easter pots can serve many purposes – use them as place card holders on your Easter table or buffet markers to describe your holiday dishes. They also make great additions to an Easter basket as photo holders. Who can resist an adorable chick and her eggs? It only takes $20 in supplies to make 8 of these holders, all with materials easily be found at the local craft store.
Supplies Needed:

1.5″ clay pots
Floral foam for wet flowers
Sheet moss
Place card holders
Place cards
Mini eggs
Easter chicks
20 or 22 gauge silver or floral wire
24 or 26 gauge silver or floral wire
Plastic or thin cardboard 6×6″ sheet
Wire cutters
Needle nose pliers
Round nose pliers
Glue gun and glue sticks
Glue
Scissors
Kitchen knife
Embellishments: ribbon, flowers, buttons, stickers (optional)
Instructions:
Step 1
Gather your materials.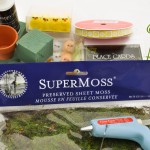 Step 2

Mark and cut the wire place card holder using wire cutters.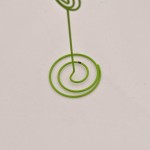 Step 3
Using a hot glue gun, glue the cut place card holder inside the pot – making sure the place card holder stands upright.
Step 4

Cut foam into 1.5″ cubes using a kitchen knife, then shape with the knife to fit in the pots. I used a shot glass to make sure I had the right fit. Once the foam is shaped, cut vertically through the center of the foam making two pieces for each pot.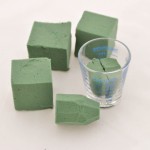 Step 5

Place foam in pot on both sides of the place card holder.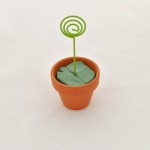 Step 6

Add sheet moss to the top of the pot, cutting away any excess. Once the shape is correct, press the moss firmly into the foam.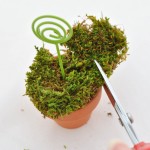 Step 7

Wrap 24 or 26 gauge wire around leg of the chick so that you have equal amounts of wire on both ends. Bring wire together and twist together. Bend the wire at a 90 degree angle with the wire pointing down. Cut off wire in excess of 1″.
Step 8

Cut small circles out of plastic or cardboard. I used the plastic packaging from the place card holders.
Step 9

Glue mini eggs onto the cutout circles using a hot glue gun.
Trim away any excess plastic or cardboard from the eggs.
Step 10
Bend 20 or 22 gauge wire to create a circle. Then bend the circle so that it is perpendicular to wire piece.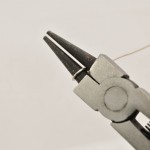 Step 11

Glue the wire base to the bottom of the egg platform with a hot glue gun.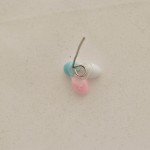 Step 12

Insert wire stand for eggs into foam. Insert wire for chick into foam.
Step 13

Embellish place card with a flower and button or sticker (optional). Add a ribbon to the top rim of the pot (optional).
Step 14

Insert the card into the place card to holder and you're done!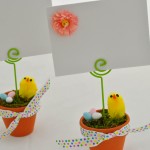 Happy Easter! Feel free to leave a comment on how you would modify this project to make it your own.
« Choosing a Camera for Product Photos Etsy International: Ireland »