Costume shops aren't as affordable as they used to be – these days you'll fork over fifty bucks just to have a flimsy foam Angry Birds outfit. It was hard enough being a poseur in high school, ditch the reputation with a unique Halloween costume that will stand out this Fright Night. Etsy's vintage section is full of original costume gear that will take you back in time. I went as a flapper two years ago in a real flapper dress from the 1920s. It was way more beautiful and durable than all the flimsy big box store costumes. This year I've paired up some vintage combinations to get your creative juices flowing.
Gas Station Attendant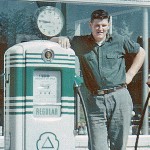 Flash back to a bygone era of full-service gas stations, rotary phones and car hops. Those idyllic times are gone, but service with a smile is alive and well on Etsy.
This Texaco work shirt is a vintage piece that's never been worn. Chet's retired by now, he won't mind. Pair it with a classic green silk bowtie for that respectable look. Throw in a vintage gas can and this costume is complete!
Rosie the Riveter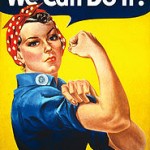 It doesn't take men going to war to realize women do all the work around here! Roll up your sleeves and show off your guns as this figurehead of feminism. For the classic Rosie look, throw on a navy blue shirt underneath some overalls that show you're ready to crack down. Pin a union membership button to your collar and add in a polka dot headband for the final touch.
Buddy Holly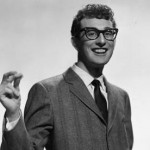 People will scream and faint when you enter the room wearing this stylish get-up. Put on your birth control glasses and grab your guitar – it's time to torture your friends.The horn-rimmed glasses are the most essential component of this costume. Match up Buddy's striped jacket, and throw in a real vintage electric guitar if you want to go overboard.
Amelia Earhart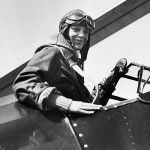 You don't need a plane, just a whole lot of leather to become this pioneering pilot. Bring a touch of mystique to your haunted holiday activities; kids may just get a history lesson in addition to their sugar high.The leather aviator hat and bomber jacket will get you on the right track to portray Amelia, but the look isn't complete until you don those classic aviator goggles.
Go-Go Dancer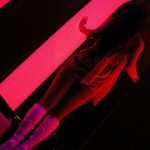 Women dancing in cages isn't something I'd normally endorse, but at Halloween all bets are off. Even the most liberated woman has dreamed of shaking it at the Whiskey A Go Go.Slip into this iconic black and white dress and some righteous Go-go boots to start the look. Accessorize with some bangle bracelets and a bob wig to finish it off.
Ready-made Outfits
If you're more of a one-stop shopper, these single-item vintage costumes will impress without the need to dig around for vintage accessories.
Do you have other great vintage costume ideas? Leave a comment to help brainstorm!
« Friday's Fast Five: Holiday Prep I A New Way to Shop: Etsy Discover »