Any kid will tell you the most essential trick-or-treat gear for All Hallows' Eve is a bucket, pail or sack to fill to the brim with candy. The costume is just a means to an end. This Halloween, make the candy bucket as cute as the one toting it with this spooky mummy treatment. The total cost for this project was under $5 with a few items from the dollar store – and the results are unique and adorable!
Supplies needed:
Pail or bucket
Old white cloth diapers, sheets or cleaning cloths
2 large googly eyes
Glue
Hot glue gun
Scissors
Instructions:
Step 1
Gather supplies. I used old cloth diapers that were worn from washing but you can use old white sheets or cleaning rags too.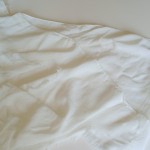 Step 2
Tear or cut the fabric into strips. Don't worry about being perfect – mummies are dead, right?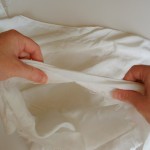 Step 3
Using a hot glue gun, glue the fabric strips around the top of the pail or bucket. Leave a little fabric at the top, so it can fold over and look tattered.

Step 4
Continue gluing fabric strips to the bucket until it is completely covered.
Step 5
Position and glue on the eyes with hot glue or craft glue.
Step 6
Fold the fabric partially over one eye, or glue an additional strip to cover part of one eye.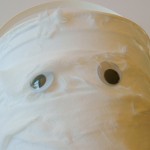 The mummy bucket is super easy and fast, and it'll give your little monster a cool accessory to gather his candy retirement fund. It can also be used to hand out the treats, so long as kids don't mind sticking their hand into a mummy's brain! Ewww!
« Friday's Fast Five: Treasury Making Handmade Halloween Decorations »