Diane and Christopher Serviss of Pixiebell create handmade knit hats, patterns and crocheted accessories. The diversity of Pixiebell's styles is staggering – berets and beehives, slouchy and cloche hats, aviators, beanies, scarf hats, and their signature line of gnome and pixie hats. Closing in on 15,000 sales with over 1300 items in their shop, Pixiebell is among the seller elite at Etsy.
The family-run shop also has a special place in my heart. Pixiebell has been a constant presence in the Etsy forums since I joined; reading Diane's advice and helpful answers has inspired and educated me. Diane and Christopher are one of the few big sellers who spend a lot of time helping others. I was a little starstruck when they agreed to an interview!
Pixiebell opened in 2007; Etsy has grown in leaps and bounds since then. What change was most memorable?
My favorite change is a recent one; Etsy added digital downloads this year. Now when a buyer purchases one of my patterns, it's available to them instantly with no extra effort. It has eased my workload tremendously and made the process simple for the buyer. It's a win for everyone! Setting it up was pretty easy as well.
Many long-time sellers talk fondly about the Etsy of '07 and '08. What do you miss from those early years?
I don't remember those years as anything more special than Etsy is now. It did seem less cluttered then, but the venue was also less popular with low traffic. There have been tons of positive changes along the way – a search based on relevancy, direct checkout, gift cards, seller stats. Every year seems to bring some new things I've wanted, and a few I didn't know I wanted until I had it. Nostalgia is good, ingenuity is better. I've enjoyed witnessing Etsy's evolution.
Selling patterns for your work seems a little scary; did you have fears that someone would make a copycat shop? How have the patterns fared?
There's always the potential for someone to copy the designs, but I didn't let that stop me. The patterns can be reverse-engineered from the items, if someone was dedicated. Our brand is what sets us apart from any copycat. The patterns represent about 25% of our yearly revenue; it's a nice residual income and I feel that the patterns add authenticity to the shop. People can see that we design and knit/crochet the items, they aren't someone else's concepts or handy work.
Was there a pivotal moment for Pixiebell when things really took off? Etsy sellers are curious if they need to "strike gold" or just persevere.
It's been a slow and steady increase. Pixiebell began as a hobby, and truly I expected nothing more than that. I soon realized that every day I had an open order or someone asking for a pattern or a custom order, and I began learning more about promoting and marketing. Perseverance DOES pay off. Don't expect some stroke of luck, hard work is where it's at.
Your shop is a collective that follows all the rules, but the term "collective" has gotten a negative connotation of Etsy stretching handmade too far. What are your thoughts on collectives? What impact has the label had on your shop?
This topic is such a thorn in my side! Etsy sets the rules and we must abide by them, but Etsy seems to have a different definition than most of us about what a collective should be – seemingly allowing factories who mass produce items under the guise of being a true collective.
A collective in my definition is a small group of artisans who create the items for a shop, in whole or in part, together. I think that was the original intent, but somewhere along the way the idea was bastardized into something less genuine and much more broad. I'd prefer a tighter definition, but it's not my venue. People also have a habit of equating collectives with resellers and they are not the same thing.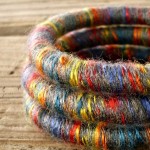 I actually consider my shop a partnership… plus. My shop consists of myself, my husband and our 3 teenage daughters. My husband and I design and create about 95% of our products ourselves. Our daughters make up the other 5%, mostly contributing around the holidays. They also design and make our new bracelet line.
Unfortunately, we do get questioned often by people who just don't understand our process or how we could accomplish so much, assuming we have some Oompa-Loompas working for us somewhere. I try to explain that my husband and I can each make 3 to 5 items a day. Fat needles and fat yarn makes for quick projects. There is no factory here, just the two of us in recliners, watching TV.
Your shop has a mixture of mannequin photos and live models – do you find that one performs better?
Our live model photos are featured more often than our mannequin photos, but both sell well. If I had my way they'd be all model photos, but the mannequins are easier for me to work with. They never fuss or complain!
Etsy sellers struggle the most with shop promotion; what was effective early on in promoting your shop? How have you refined your listings to garner more traffic?
What's worked best for me is to promote OFF of Etsy. Bring in your own traffic. Bring in your target audience. I tell people to think about who their potential buyers are and hang out where they would, both online and off. For me that means knitting and crochet groups, classes and guilds as well as cold weather sports fanatics – or people who live in cold climates in general.
My efforts on Etsy revolve around good SEO practices. Keeping my items relevant is a lot of work, but there is a rhythm to it. My items are seasonal; I've found certain tags and titles that perform well and I swap them out as the seasons change.
What words of wisdom can you offer new Etsy sellers who struggle to find success with their shops?
Ask questions and read, read, read! There's so much incredible information on Etsy, especially in the forums. Get involved in your Etsy community! There are so many wonderful people willing to share their insights, tips and tricks. If you haven't visited the forums, come on down and say hello!
The Facebook link on your about page goes to your personal page rather than a business page – is this intentional to be more personal with your fans?
Exactly! I invite people to get to know me and my family and see we're as genuine as it gets. I often share recipes, music and photos of what we're working on, new designs and even some of our family outings. I like our clients and fans to know that they're supporting real people. Our lives, our dreams, and our daughters' college educations are all possible because of their support.
What changes are you working on right now? What's the next step for Pixiebell?
I'm excited to say that I just recently signed the contract for my first book deal with Stackpole Books! Our book of original knitting patterns will be available sometime in the Fall of 2014. It will focus on beanies and slouchy hats, but if I have my druthers there'll be a pixie style or two in there as well! The book will be available on Amazon and Barnes and Noble as well as in Jo-Ann, Michaels, AC Moore and Hobby Lobby stores.
Congratulations on the book deal! I can't wait to see it – although after my last knitting fiasco, I'm personally better off buying the hats direct. Visit Pixiebell's Etsy shop to see Diane and Christopher's latest knit creations, or follow them on Facebook to keep up with the Serviss family.